Wardrobe systems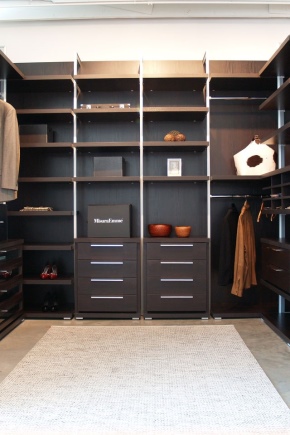 Features and Purpose
Types of designs
Mesh constructions
Vertical beams are equipped with fasteners, with their help, baskets and shelves for storing things are installed.
You can reduce or increase the number of things without experiencing difficulties in their placement.
Column structures
It turns out fashionable and visually light ensemble, consisting of a frame on the racks and wooden shelves.
The design looks light, elegant and, at the same time, due to the strength of the supporting columns, it is able to withstand rather heavy loads.
Hull structures
In addition, the classic dressing room modules can not be parsed and rearranged. If necessary, you can only remove individual shelves, but the essence itself cannot be changed.
Panel construction
This system takes the second place after net mobility: if you wish, you can swap shelves, make more or less the number of crossbars.
Materials
Chipboard and MDF
Metal
Mirrors
Wardrobe system components
Shelves
Shelving
Boxes
The box can be put in any place, in accordance with the size of the shelf or drawer, and you can store anything in it, from small household goods to headdresses.
Rods
There is a more complex retractable design, which is equipped with a special system that prevents slipping.
Fittings
Accommodation options
If the layout of the apartment implies the presence of a pantry, it will effortlessly fit a small full-size dressing room, consisting of several sections.
At the bottom it is advisable to place a small chest of drawers and a couple of bedside tables.
If, nevertheless, there is a desire to close the wardrobe, for this purpose curtains or curtains are used, perfectly serving as sliding doors.
Dimensions
Popular manufacturers
Metal structures are fairly light, so the cost is lower than that of the Swedish competitors.
One of the features is the ability to adjust any module in height.
Reviews
However, many criticize this manufacturer for a high price, which is often one of the main criteria in favor of choosing one or another product.
However, the choice of possible options is small, so the British manufacturer should rely on the most unassuming customers.
This is where you can often find furniture systems Joker with their typical metal columns and fasteners.
Products are in special demand when arranging children's school corners.
The system is easy to install, you can rearrange the shelves and adjust them in height.