Racks for the wardrobe room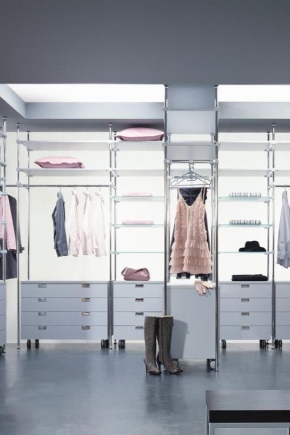 Features and benefits
It should be noted neutral design of such parts. They easily fit into different interiors and styles, as they do not attract much attention to themselves.
Kinds
Such designs can be made by hand, without spending big money.
Shelves are mounted in racks with reliable holders using a bolt-free connection and fastened with hooks. As a rule, they contain back walls that prevent things from falling to the floor.
Additional modules can be installed in the withdrawable racks, if necessary. The most durable and durable are designs made of aluminum.
Material
If your racking system contains parts made of chipboard, then heavy things cannot be laid on them.
How to choose and where to place?
It is recommended to refer to the kits of moisture-proof material. Such designs are more durable.
Ideas in the interior