Dressing room in the hallway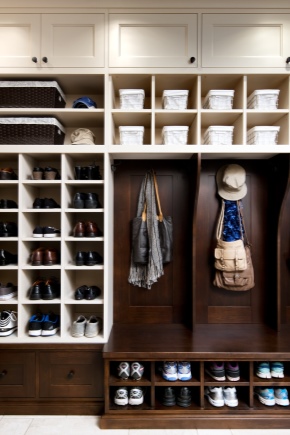 Features and benefits
In addition to these things in the wardrobe it is possible to store household and sports equipment.
Kinds
Corner wardrobe
In order for the structure not to look too cumbersome, the internal system must combine open and closed modules, compartments, drawers, shelves.
Open closet
However, do not forget that all things and clothes will be open to prying eyes all the time.
Closed wardrobe
Built in wardrobe
Materials
The most original look models, made in combination with several different texture materials, such as wood and glass, plastic and photo wallpaper.
However, it is almost impossible to replace the noble, beautiful, durable, "living" wood with its unique smell and healing properties.
Wooden wardrobe in any interior looks appropriate, expensive and dignified.
Accommodation options
The doors in the niche can be sliding, swing, folding (like accordion) or swinging.
Space organization
Internal filling
The lower tier is used for storing shoes, the upper - for hats, bedding.
Settlement Tips