Living room: the subtleties of design in various styles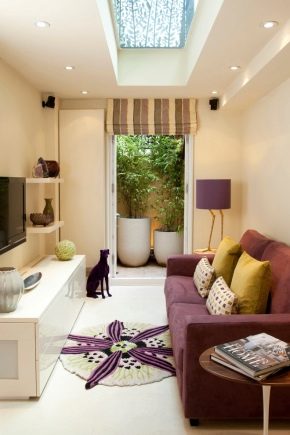 Special features
Today, many of the drawbacks can be turned into the merits of a room, which is especially important for the hall: its design project will be individual and inimitable.
Before demolishing the walls, it is important to draw up a design project, this will prevent the wrong arrangement of "wet" zones (places where leakage, for example, a kitchen sink) is possible: they should not be located in places where living rooms are located at the bottom of the neighbors who live below.
If this color or texture is fundamentally important, you should choose similar wallpapers: they do not need an additional frame for plating, it is easier to work and dismantle.
Zoning
At the same time it is important to remember that it is unacceptable to crush the room: its shades may vary somewhat or overlap with each other, but they must belong to the same color.
Combination with other rooms
Today, such a combination in the center of attention of the design: they allow you to change the aesthetic perception of the apartment, make it lighter and visually spacious. Combination with a balcony is undesirable: it can skew the bearing wall.
Style
Minimalism
The proportionality and simplicity are important, the clarity of the lines, in the furniture the emphasis is placed on perfectly smooth surface treatment, be it wood, metal, tile, glass or plastic.
Modern
There are no clear limitations in the choice of color, but the brightness is not acceptable, the tones should be soft, muffled.
Loft
Each functional area of ​​the living room should be a separate inhabited island on the background of carelessness and brutality.
Contemporary
In this case, emphasis is placed on convenience: the furniture must be transformable, modular or built-in, differing in evenness of lines. In priority built-in shelves, racks, comfortable chairs, chairs and footstools.
Grange
However, there is no sharpness and sense of presence in an industrial facility in grunge: curtains, natural textiles, soft blanket, beautiful lamps, antique forging elements are acceptable here, there may be a fireplace.
Brutalism
This is a contrast to glamorous tendencies, in which strict forms and the inconspicuous placement of furniture from unusual combinations of raw materials (for example, a cabinet made of metal and wood, a table made of concrete and glass) are important.
Lounge
Bauhaus
There should be a lot of light: for this, window openings are increased or composite lighting is done on the ceiling and walls, often adding floor lamps to it (curtains in this style are rare).
Colors and decor
Its combination with a large number of saturated shades is unacceptable: tones will interrupt each other, which will not give an opportunity to place the accents of the style correctly.
Finishing materials
Walls
This finish is used mainly on the accent parts of the walls or structural projections (fireplace, guest, dining areas, columns, niches).
Ceiling
In the center of attention of modern design are various beams, communication elements with deliberately coarse stylistic illumination: such decorations of the ceiling zone are used in various styles. However, this decor can be made in natural wood shades and white.
Floor
In the installation of trying to use materials with a high class of resistance to abrasion and mechanical damage, given the fact that the living room is a place with a large cross.
Designer Tips
Do not load the interior of the living room with an abundance of dark and saturated colors, such an environment can annoy you with time.
Lighting
In the small space, ordinary concise models of the ceiling zone are used; if the living room is spacious, it can be decorated with a chic pendant chandelier with crystal and candles.
Fireplace in the interior
Beautiful examples