How to choose furniture for the living room?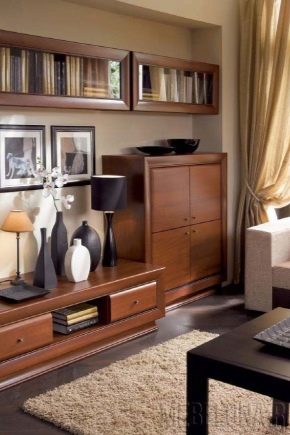 Special features
Kinds
If a person has chosen modular furniture, he, as a rule, receives either a catalog with a full range of modules, or he will get acquainted with them directly at an exhibition in a store. Then there is an independent selection of the necessary parts of the kit.
Fashion trends
For this reason, designers advise owners of small rooms to make redevelopment and combine several spaces in order to create a more functional and bright room.
Coating
However, MDF is afraid of mechanical damage, so during operation it is necessary to protect the facades from bumps and scratches.
Materials
Color solutions
However, you should not be afraid of this color, with the proper placement of accents and selection of companion colors, you can get a truly chic interior that will delight its owner and all its guests for many years.
As for the compatibility with the shades of furniture, furniture in wenge color will perfectly fit into the yellow living room, and for a brown interior the color bleached oak will be an ideal solution.
Styles
Bronze decorations, ornate shelves, heavy cornices with curtains and paintings in massive baguettes adorn and complement the classic style.
How to place?
The layout both on the plan and in the real space should be planned, starting from the central piece of furniture. Most often the sofa acts as such an object, it is he who centers the room and is the main element of the living room.
You should not force a small room with a large number of items, just as you should not put a single table in a large hall.
Today, it is entirely appropriate to leave one of the walls free or fill only a part of it - so the space will be further expanded, more light and air will appear.
Living-dining room
Bedroom-living room
Also a great option would be a transforming bed, which, if necessary, is removed in a niche in the wall and imitates a wardrobe.
The color solutions in this case may also be different, but for the bedroom area it is better not to use too bright colors. Communication with the bright living room area can be accomplished using bright cushions in color or a suitable blanket.
Create a design project
Manufacturers
Beautiful examples in the interior