Shelves in the living room: modern design and practicality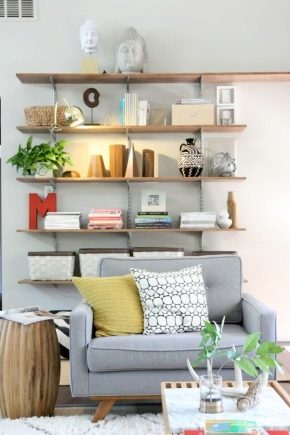 Special features
In addition, shelves of unusual shape or color turn into decorative objects themselves. This function will perform several shelves, reinforced at different levels.
Materials
Tree
Chipboard, MDF, LMDF
Metal
Forged products are appropriate in both classic and stylized rustic interiors.
Glass
Drywall
Plastic
Constructions
Shelving
Designers often use them to zoning a space or turning it into a decorative element.
Corner
From modular shelves (square or rectangular, open and glazed) it is easy to assemble an abstract composition for the living room. In the traditional interiors use wooden shelves, and in progressive you can experiment even with plastic.
Suspended
In various styles
Classic
Baroque
Country music
Provence
High tech
Loft
Ethnic
How to choose?
Where can I put it?
Shelves are placed not only along the walls: the structure for storing books will fence off the workspace or space for reading. As a temporary partition, you can use transforming shelves, if necessary, changing the placement of the walls.
What to put?
But remember: it is necessary to maintain order on the shelves.Dust, an abundance of knick-knacks, somehow dumped books will spoil the impression of the room.
How to decorate?
Beautiful examples in the interior