The subtleties of the repair of a small room of 18 square meters. m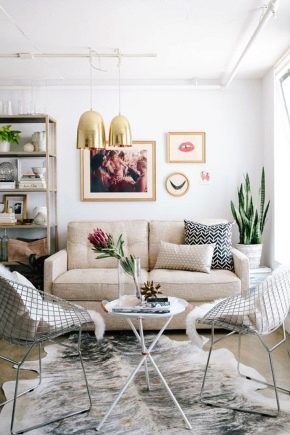 There are many design techniques that are used to decorate a miniature living room or hall of 18 square meters. m
Features of planning
If you intend to place several zones on the same territory, you must use the zoning technique. With it, you can separate one part of the location from another, ensuring comfortable use of each of them.
We make the interior
Finish
As for the textile design, make a choice in favor of light, transparent and translucent fabrics. This applies to curtains, bedspreads and other products. Ideal monochrome curtains or products with a small pattern.
Lighting
Furniture
Style
Classicism
Hi-tech and minimalism
As for the high-tech style, all of the above principles apply to it. The main difference of this direction is the use of innovative technologies: the "smart home" system, modern technology and much more. Also, the design uses chrome elements, mirrors and glossy surfaces.
Japanese
Eco
Scandinavian
Studio apartment
Beautiful options