Examples of repairing the living room in a private house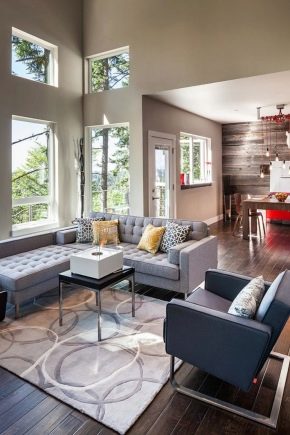 Preparatory work
It is necessary to determine in advance with the furniture, appliances and lighting devices. A clear idea of ​​the future interior will allow to correctly place the wiring, sockets and switches, highlight zones, calculate the budget.
Windows, doors
Radiators
Walls
Light color visually increases the territory, the dark wall gives depth.
The only disadvantage of this type of finish is the high price.
Ceiling
Lighting
Floor
Interior
In a small room, light furniture will visually create space, but at the same time it should not be much. Against the background of light walls dark furniture looks good.
Style
Any style in the living room of a private house will be good if you put a piece of yourself in it and make repairs yourself.