The design of the living room in the style of "high-tech"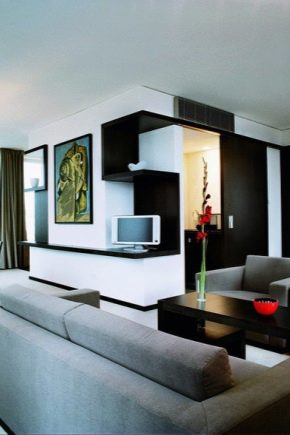 Features and characteristics
The interior is hi-tech dominated by regular geometric shapes. This is the realm of glass and metal, so that this interior seems somewhat unreal, even cosmic.
The peculiarity of this style is that it is equally relevant in a large townhouse and in a small studio apartment.
We select the room design
Walls and floor
If you want a creative design, you can make the floor dark or black as opposed to light walls. And to slightly soften the coldness of the finish, you can throw a small short-haired carpet with a dim geometric pattern on the floor near the chair or sofa.
Ceiling
Lighting
Light can be present not only as a chandelier, but also as a backlight of furniture and various interior items.
If you still prefer a single central lighting, you can choose a lighting device on the tires or on the strings.
Furniture
If the living room assumes the presence of a wardrobe, then it would be nice if this is a full-wall wardrobe. At the same time, it is desirable that he should be one with the wall and, if possible, merge with it.
Textile
Since the high-tech interior does not imply the presence of natural materials, then artificial leather can be safely used as an upholstery.
Beautiful examples and news