Corner fireplace in interior design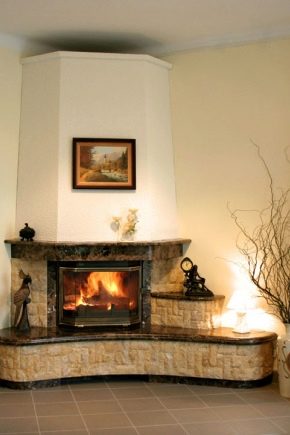 Of course, this is not a cheap pleasure, but you can build it yourself. To do this, it is enough to have a little experience in the construction industry, study the implemented projects and be able to use the instructions.
Special features
Kinds
Gas
Electrofireplace
It is possible to arrange such a decorative fireplace both on the floor and on the wall.
Bio Fireplace
By their design, such models perfectly complement the living room in the style of high-tech or minimalism.
Wood burning
Falshkamina
Some types of fireplaces can be used not only for heating the room, but also for cooking. This is a great way to spend time in the cold evenings with your family. A cup of fragrant tea, spicy cake and fried marshmallows on a fire - such warm memories will always be stored in the soul of your children.
Also, some designs of fireplaces can be used to heat a large part of the house. According to its construction device will be not much different from the classic.
Design
Some designs of fireplaces can be improved by adding a hob or even an oven. Then you can cook delicious dishes with smoke, without leaving your home. This fireplace is more appropriate to place in the dining room or kitchen-living room.
Style
Also for a classic style, an excellent option would be a wooden fireplace, especially if the whole interior is designed in the traditional spirit.
Which to choose?
In a closed and well-heated place, the fireplace should have a good burden, which will eliminate the smoke in the room. But at the same time the pipe should not pull out all the heat from the flame. Good traction also contributes to the rapid ignition of the fire and maintaining heat.
Masonry patterns
This is one of the easiest ways to stack a corner fireplace. The appearance of the structure can be supplemented with arched elements, increase the size of the niche for firewood, and also add an ashpit - it all depends on your preferences, means and desires.
Projects
The fireplace should be shallow and wide. In this case, the heat transfer area will be maximum.
How to do it yourself?
If you are a beginner, we advise you to start laying with simpler structures, for example: stoves or plates. Do not forget to use glasses to protect your eyes when cutting bricks.Also wear a gauze bandage to prevent dust from entering the airways.
Tips and tricks
Beautiful examples in the interior