Clay bricks: composition, properties and production technology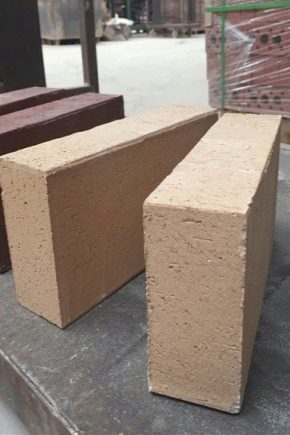 The production of building materials is quite an attractive and promising occupation, since these products will always be in demand. But it is important to organize the whole process according to strict technological rules. Having missed at least one moment, it is impossible to get even an ordinary brick from clay.
Preparation of raw materials
The first step is naturally the supply of production facilities with raw materials. The search for clay deposits is carried out using standard geological survey methods. When layers are found, experts estimate their power, resources available for making.If a decision is made to use a specific career, the area is cleared in advance (another 1-2 years). It should be freed from both vegetation and obviously unnecessary breeds.
Often the surface of the soil is loosened to simplify the subsequent extraction. At the same stage, transport and energy lines are brought to the career (in the absence of ready communications). Extraction of clay produced by:
excavator applications;

crushing rock explosives;

with the use of relatively small cars (bulldozers and so on).
Types of products
Production of different types of bricks suggests significant differences in the technology of the product, even if we are talking about products of the same size.
Double silicate brick is better than ceramic in sound insulation, but inferior to it in such indicators:
resistance to cold;

thermal stability of the building;

moisture absorption.
At the same time, traditional red brick is more expensive. Its production requires more expensive equipment, lasts much longer. The complexity is also increased, as well as energy consumption.But in both cases, the raw material passes through several stages. First, prepare the clay mass, giving it the necessary characteristics.
Then molded raw, dried it. And only then comes the time of firing, that is, the main technological operation. In order to properly perform the work, the clay rocks that entered the brick factory are sorted in accordance with GOST 1975.
This takes into account:
refractory properties;

sintering ability;

mineral composition;

plastic properties;

mechanical resistance in the dry state.
Chemical characteristics of the raw materials implies determination of the concentration:
water soluble salts;

alumina;

coarse-grained components;

fine dispersed fractions;

iron oxide;

titanium dioxide;

free silica.
Features of the process
Clay raw materials, just brought from the quarry, are extremely rarely suitable for producing high-quality products. To improve the quality of raw materials, it is required to subject it to weather-climatic and mechanized processing. The first stage involves leaving the clay mixture under controlled conditions for 1-2 years.This period is required for wetting, freezing and thawing (sometimes the process of freezing and thawing is done several times), for weathering. When this procedure ends, they are machined.
It implies:
carefully thought out changes in the structure of raw materials;

fragmentation of clay, foreign inclusions in it;

cleaning of large garbage inclusions and impurities;

mixing clay until smooth.
Technological preparation of clay mass is made using a variety of special machines. Some people loosen clay, others rub it, others disintegrate (clear of stones of various sizes). Ball mills and rotary mills, clay mixers and propeller mixers are also used in brick factories. There are also multifunctional production devices.
But they are able to replace only individual installations, and not the production line as a whole.
How clay is molded
In most cases, a plastic technique is used. It allows you to process raw materials of medium plasticity, the humidity of which ranges from 18 to 28%. For this purpose, a belt screw press is used.It is recommended to use presses capable of heating the clay mass in a vacuum mode.
This mode of treatment increases the strength of raw.
There is also a tough technique. It is considered a subtype of plastic processing method. This approach is applied to a relatively coarse clay mass with a moisture content of 13 to 18%. For tough processing of clay, hydraulic presses are used. Machines with screw and vacuum chambers can also be used. In both plastic and hard brick making methods, the unfired mass should be cut into pieces at the end of the molding process.
Semi-dry method of producing blanks is relatively rare. It is used when it is necessary to process insufficiently plastic raw materials, the so-called lean clay. This raw material has a moisture content of 8 to 12%. The total processing time is reduced. Dry production method involves the formation of bricks from clay powder with a moisture content of 2 to 6%.
It is not necessary to dry it, from such raw materials you can get the most dense ceramic products.
Drying
One way or another, when the bricks are formed, it is usually time to dry them.At this phase of processing, a decrease in humidity to 5-6% is achieved. If you ignore this requirement and send wet products to the oven, they can crack and even deform. Modern dynamic production can no longer afford long-lasting natural drying. To speed up the process using chamber or tunnel dryers.
And in order to increase the technical and economic efficiency of production, it is increasingly becoming the choice of continuous installations.
Last stage of processing
The required brick firing temperature is created in furnaces of various types - most often tunnel and ring ones.
Firing is divided into three smaller stages:
Warming up the prepared clay block;

proper temperature effects;

planned and gradual lowering of temperature.
In the first stage, the workpiece is heated to 120 degrees. This leads to evaporation of the associated physical effects of moisture. The product becomes much less plastic. As soon as the temperature rises to 600 degrees, this change becomes irreversible. The evaporation of residual moisture occurs, and the clay acquires an amorphous structure - soon organic matter will burn out.
As soon as the brick is heated to 800 degrees, the outer edges of the particles of the billet firmly interlock with each other. This allows the finished brick to become many times stronger. When the temperature rises to 1000 degrees, it is time for fire shrinkage. Finished products are sintered and become denser. Easily melting substances, having turned into a liquid, envelop what has not yet melted - at the same time, besides reducing the volume by 2-8%, the mechanical strength of the brick slightly grows.
To learn how to make a brick of clay with your own hands, see the video below.