Solid brick: types, sizes and applications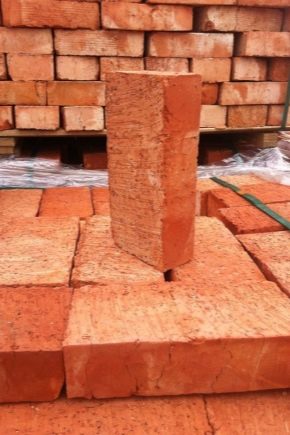 What it is?
Main characteristics
Many characteristics of solid brick depend on the raw materials that were used in its manufacture. Today on the market you can find several varieties of similar products. Each of them has its own positive and negative qualities that must be considered when purchasing.
Advantages and disadvantages
It is also important to work competently with such a brick - then the construction will be more reliable and of high quality.
Kinds
Ceramic
Silicate
Standard (private)
Facing
Chamotte
Clinker
Textured
This option is ideal for the manufacture of structures with a complex structure. For example, it can be beautiful arches.
Glazed, Engobed
Facial
Facade
Plastic molding
Semi-dry molding
The higher the brand of building materials, the more impressive is their weight.
Dimensions and weight
Bastard and double bricks do not require a solution in a large volume, making masonry cheaper, but no less quality.
How is it made?
Color spectrum
In accordance with GOST, a brick must necessarily fit the main sample, which is approved by the manufacturer of such building materials. Often in the factory there are several reference bricks. Because of this, there is a risk of acquiring an overly varied consignment of goods.
Scope of application
As you can see, solid brick is permissible to use in a variety of workflows. All of these objects must be stable and strong, so for their preparation is required to select the right building materials, designed for impressive loads. Such requirements are met by high-quality full-bodied masonry bricks.
How to choose?
You should consider the brand of selected products.It should be selected at the stage of drafting the future construction. To buy products with one or another marking should be based on the data specified in the project documentation. If you buy a brick of unsuitable brand, it can quickly fail.
You also need to pay attention to the fact that all the bricks in the party had the same color. No detail should be significantly different from the rest of the shade or tone. Such elements often stand out sharply against the general background, spoiling the appearance of the erection or lining.
Tips and tricks
Fireplaces and stoves should definitely be laid only with refractory bricks. If material is selected for finishing, then it is better to use an ordinary brick. If finishing is not planned, then the front or decorative material will be perfect.