Subtleties of the process of cleaning bricks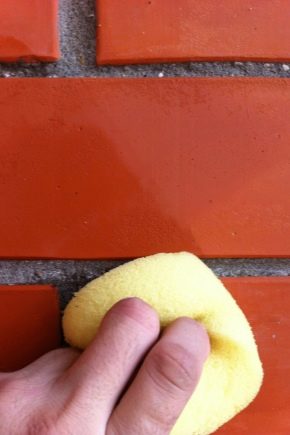 Cleaning methods
They are used only when processing ceramic bricks. But silicate blocks can not be cleaned in this way. It will inevitably be damaged. Cement adheres very strongly to the silicate base. It is very difficult to remove traces of the solution and excess weight with its hand tools, it is necessary to use electric machines.
Facilities
In addition to mechanical cleaners, it is necessary to keep a water tank ready. It reduces the strength of dried spots. Inside the house, the wall is moistened with rollers, brushes or sponges. If the work is carried out on the street, and the pollution is very large, it is more practical to use a hose. It should avoid excessive moisture, because the brick is destroyed by contact with the liquid.
How to clean different types of pollution with your own hands?
Immediately after laying the walls have to be cleaned of cement. First of all, the mud is softened, wetting with water. This will make the stone more fragile, help to tear it from the base material. Watering is continued until water continues to be absorbed. If it is still absorbed, it means that the spot safety margin has not yet been exhausted.
Important: Reagents sold in stores can deal only with strictly defined types of mineral salts.
Useful tips