How to make a machine and make a cinder block?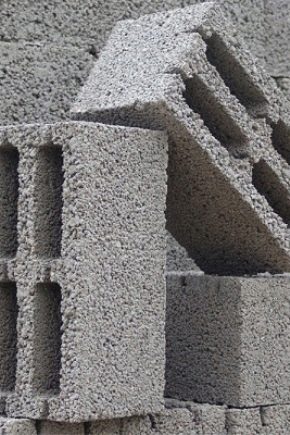 Material Features
According to experts, in the work of such materials are quite capricious, so it is always very important to follow the appropriate instructions. The same applies to the process of their manufacture.
The composition of the mixture
If in the course of the work cement was used with the marking M500, then it is permissible to take it by 15% less than the raw material M400. Most often, such an element as slag occupies at least 65% of the total volume of the filler.
It is recommended to mix all the listed components in a special mixer or a concrete mixer, however, such equipment usually has a high price. If we are talking about preparing a small amount of the mixture, it is possible to knead it by hand, despite the fact that such a process is considered to be quite laborious.
Molding methods
Many masters use glass bottles to create voids. Plastic containers are not worth taking, as they can be seriously bathed. Bottles poured water. Otherwise, they will float on the surface of the prepared composition.
If it is necessary to make elements with other dimensional parameters, then the original values ​​are changed to other sizes.
How to make a vibromachine?
Production technology
In the manufacture of slag blocks using this technology, special attention should be paid to leveling the mortar in the corner sections. They must be filled. Otherwise, the geometry of the finished product may be seriously affected.
Drying
It should be noted that the process of hardening of cinder blocks can be significantly accelerated. Such an effect can be achieved by adding special substances to the solution - plasticizers. With such additives, the material will not only dry out faster, but also be stronger. Slag blocks with plasticizers can be removed from the site and stored after 6-8 hours.
Tips and tricks