Floor mats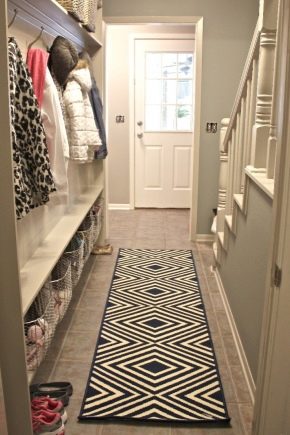 Special features
Kinds
Carpet track
Moisture absorbing
Rubber provides a snug fit of the mat to the floor, which eliminates its slipping and reduces the risk of injury to zero.
Rubber
Their main advantage is resistance to abrasion, and the disadvantage is that you can forget about the interesting design and colors when choosing them. Satisfied with standard colors.
Rubber with a side
Modular
Such a constructive solution in the antisplash coating Grass, which is usually used in places with small or medium maneuverability.
Heating
The limitation on the heating temperature for both types of products is 50 ° C.
Dielectric
Dielectric mats in such conditions can save lives, especially when you have to build problem electrical equipment.
Logo Carpets
Materials
Forms
Dimensions
In terms of functionality, thick carpets of a small size are not inferior to long and wide tracks with low hairiness.
Colors
Whichever option you choose, try to observe a balance of colors and shapes in the interior, and the best assistant in this matter is a sense of proportion.
Which is better?
How to choose?
The color palette of the interior mat should not contradict the color of the furnishing, even if we are talking about the placement of accents.
Options in the interior