Children's mattress Ikea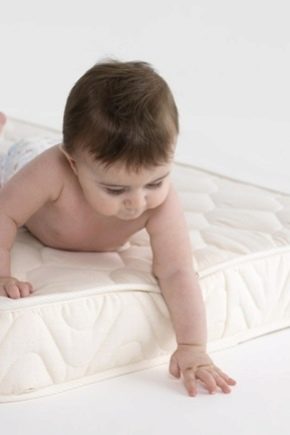 Sleep is very important for the full development of a child of any age, so the choice of cots and bedding is very important. Help to ensure a healthy and sweet baby sleep can have a children's mattress of a well-known company. Ikea.
Guaranteed restful baby sleep
In the collection of children's bedding, you can easily find products for children of different ages, made of latex and polyurethane foam. All of them are equipped with removable covers that simplify the operation and cleaning of mattresses.
The main advantages
Ikea product catalog is quite extensive and diverse. Mattresses (including children's) occupy one of the main places in it.
The advantages of products for children are:
Convenience - moderately soft and resilient mattress was created taking into account the anatomical features of children, so even a long sleep on it will not give the slightest discomfort.
Hygienic - the manufacturer uses materials that are most resistant to pollution and dust.
Easy operation - it is provided by removable covers that are easy to wash and dry.
Durability - the mattress is enough for the child until he grows out of it.
In this case, Ikea products for the better differ from mattresses from other manufacturers - they are more affordable. Consumers really appreciate this advantage.
Functional features
Ikea orthopedic mattresses for children are intended for the prevention of disorders in the formation of the musculoskeletal system of growing children's organisms.
Their main functions are:
Maintaining the correct position of the children's spine during sleep. The correct position is the preservation of all natural curves.
Optimum load distribution. The orthopedic mattress does not form a "hole" in those places where the child lies. It elastically flexes in some places and remains "unbeatable" in others.
Muscle relaxation. For a good rest muscles should relax as much as possible during sleep. On an uncomfortable mattress, this is impossible, since the muscles must constantly support the bone skeleton. In the case of orthopedic products, Ikea is supported by the mattress itself.
Maintain optimum temperature. In winter, the products perfectly retain heat, and on hot days, thanks to their "breathing" features, they are given coolness.
At the same time, the products do not impair blood circulation, do not squeeze delicate children's skin, they do not have allergic reactions and irritations on the skin.
Selection rules
To get the maximum effect from using Ikea children's orthopedic mattress, you must first choose the right product.
When choosing, be sure to take into account:
Age features of the child. For the smallest, for example, it is recommended to purchase denser models, and older children will prefer mattresses softer.
The size. It must exactly match the size of the child's bed. Too small a mattress will increase the risk of injury due to hands or feet falling into the gaps between it and the edges of the bed.A large mattress due to deformation may be gathered by wrinkles or knolls, which will negate all orthopedic qualities.
In the Ikea size table there are mattresses:
for newborns and children under 1 year - 120 × 60 and a height of 5-10 cm;
from 1 to 3 years - 120 × 60 (on a standard bed) and 130 × 80 (for a sliding berth), 5-10 cm high;
from 4 to 7 years - 160 × 70 (standard) and 130 × 80/165 × 80 (sliding), 8-10 cm high;
from 8 to 12 years - from 160 to 200 cm in length and from 70 to 90 cm in width (for a standard bed) or 165 × 80/200 × 80 (for a sliding bed), 8–20 cm thick;
for children over 13 years old - 90 × 190 (200) or 80 × 190 (200), 10-20 cm thick.
Type of filler
In Ikea children's mattresses, polyurethane foam and synthetic latex are commonly used.
Polyurethane foam - an elastic and resilient material capable of withstanding considerable pressure without loss of quality. Over time, not bend. Due to its cellular structure, it provides good ventilation and hygiene.
Artificial latex as close as possible in its structure and quality to natural material from Hevea juice. Completely hypoallergenic, well ventilated and perfectly supports the fragile children's musculoskeletal system.
Both fillers are recommended for use in children's mattresses, but the latex is more rigid and more suitable for the smallest.
One of the main criteria when choosing an orthopedic product is its comfort, for the evaluation of which it is necessary to allow the child to lie down on the mattress before making a purchase (well, or you can evaluate its convenience yourself).
Range
The Ikea range includes mattresses with a variety of bases and fillers, in various sizes and thicknesses. The most popular models are the following:
"Vyssa Somnat" - model 10 cm thick filled with artificial latex with the addition of polyester wool. Provides maximum support for the baby's musculoskeletal system, relieving muscle tension and making children's rest full.
Thanks to its numerous air channels, the filler ensures good air circulation, not allowing odors to stagnate. Velor removable cover provides additional protection of the packing against external influences and dirt.
"Vyssa Skönt". Model height - 10 cm. Structure - cold polyurethane foam in combination with polyester wool,covered with a mattress cloth made of cotton (62%) and polyester (38%). Durable, durable and comfortable mattress for a healthy sleep and proper development of the child.
"Vyssa Snosa" - the bilateral product 8 cm thick consisting of PPU and polyester cotton wool providing the maximum comfort during a dream.
"Vyssa Slappna". Height - 7 cm. The stuffing from PPU, protected from above by nonwoven polypropylene. It guarantees complete hygiene and excellent support of the child's developing musculoskeletal system.
All these models can be laid in the bed for the youngest children, but they are made in different size variants, so these products can be purchased for older children.
In addition, for children from 3 years old, the company offers spring models:
"Vyssa Vackert". Product height - 12 cm. At the base of the mattress is an independent pocket-type spring block. The springs are placed in a safe box made of polyurethane foam and provide excellent support for the child during sleep. Felt and polyurethane foam are used as a supplement to the springs.
"Vyssa Vinka". Based on the Bonnel spring block, supplemented with felt and polyurethane foam. Height - 12 cm.
Teenage mattresses are presented by models:
Malfors. Springless, with a foam gasket and a height of 12 cm. Above the polyurethane foam there is a layer of polyester wool.
"Moshult". It is similar to the previous model, from which it differs only in height - 10 cm.
Most models are made in several versions: for beds of standard sizes and for sliding bedroom furniture.
Reviews
More often, positive feedback from parents of the youngest children and teenagers can be heard about Ikea children's mattresses.
Consumers say that the optimal combination of price and quality, complemented by a fairly wide range, allows you to choose exactly what you need.
The ease of use of products deserves high marks. - they are "not afraid" of twisting and are easily cleaned in case of pollution. Mattresses with antistatic properties do not attract dust, microorganisms harmful to children's health do not start in them, which is also appreciated by parents.
Children appreciate the convenience and comfort of their beds.
It can be concluded that both children and their parents are usually very happy with Ikea mattresses, as evidenced by the stable demand for this type of product.
How to choose the right baby mattress, learn from the following video.