Askona mattresses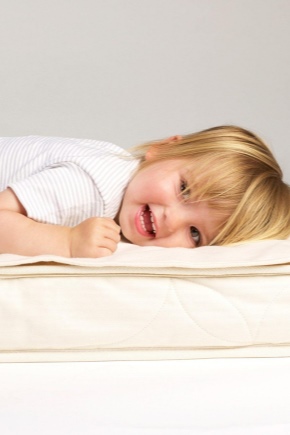 But before buying it is necessary to conduct a "test drive" on your own in order to be confident in the choice.
Kinds
For a child or a person with greater weight, it is better to choose a springless anatomical mattress. These models are great for a double bed. Modern springless models have a lower price.
Orthopedic models are recommended to buy for children older than three years.
Suitable for frequent pains in the back or neck, when it is necessary to alternate sleep on a familiar surface and on a more rigid one. It is not recommended to bend the mattress, it can lead to deformation, with the exception of individual folding models.
Fillers
Latex and coconut cloth are used in spring mattresses and are responsible for softness, rigidity and elasticity. If a thick layer of coconut leaf is placed on the spring block, then the surface becomes quite hard. If you use latex - the surface becomes softer.
EcoFoam foam is used when filling children's mattresses and provides not only a comfortable sleep for a newborn and a teenager, but also is able to withstand active games and jumps.
Natural latex and coconut are more expensive than artificial analogues, but have a longer service life. These fillers are environmentally friendly, do not absorb moisture, durable, elastic and resist any bacteria.
Which is better: comparison with Ormatek
In the line of Ascona presented more thin and rigid models.
It is possible that the warranty period and quality of service will help to make the final choice with similar versions of the two manufacturers.
Dimensions
Most often, the length of modern models is 200 cm. Such a mattress is suitable for a complete rest of a person up to 185 cm tall. The length of a berth should be 15 cm longer than your height, that is, for a person 175 cm tall, a mattress of at least 190 cm is needed.
Forms
The main advantage of such models is that they do not bend in the middle with time.
Rigidity
Life time
To keep the mattress clean, it is recommended to use covers and mattress covers that will protect it from water, dirt, dust, and from staining the surface with bed linen.
Covers and base on mattress
There are also models with fixed bases. In this case, the cover should be tightly and evenly fixed. But this option is not very convenient for periodic cleaning.
Rating models
ASKONA Balance Lux
ASKONA Fitness Arena
ASKONA Balance Forma
ASKONA Terapia Cardio
ASKONA Trend Roll
ASKONA Terapia Farma
ASKONA Victory
How to choose?
When choosing a double mattress, it is necessary to focus, first of all, on the parameters of a higher and heavier partner. And do not neglect information on the recommended load.
It is important to remember that the mattress requires proper care. To increase the service life, it is necessary to alternate the headboard every 3-6 months and turn the mattress over, changing sides - top to bottom. Thus, layers of the flooring are restored during use.
Customer Reviews