Mattresses Perrino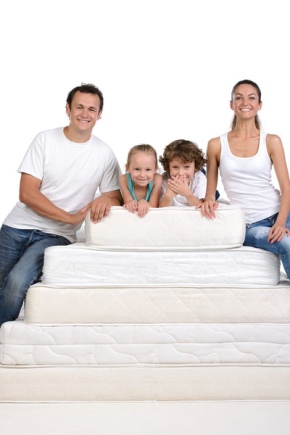 The Russian company Perrino is a well-known manufacturer of comfortable and stylish orthopedic mattresses. She offers unique products that will give you a strong and healthy sleep.
Features and benefits
The Perrino company was founded in the city of Korolev 11 years ago. It is engaged in the manufacture of more than 150 models of mattresses with orthopedic effect - from high-quality materials from European suppliers. It uses modern equipment and the latest production technology.
The main advantages of orthopedic mattresses Perrino:
Beautiful and elegant appearance of products distinguishes them from products of other manufacturers. They look attractive even without bedding.
Reasonable prices allow you to buy products of the brand to everyone, regardless of financial position.Even some premium models are available.
A variety of colors and sizes of mattresses allows you to choose personal preferences when choosing.
The company gives a guarantee of 25 years for all products, since it is confident in the remarkable quality and durability of each mattress.
All mattresses have orthopedic and anatomical effects, they are hygienic, anti-allergenic, durable and practical. All these properties guarantee a good night's sleep.
The manufacturer offers a wide range of orthopedic mattresses, different levels of rigidity. Products are made from various fillers, the thickness is also different.
Perrino orthopedic mattresses are hypoallergenic and environmentally friendly. They are ideal for people who are prone to allergies, have poor immunity or complain of back pain.
In the manufacture of its products The manufacturer uses natural materials and fillers. The mattresses are equipped with a spring block, and also supplemented with layers of coconut coir, latex and spunbond. On the basis of natural products make anti-stress impregnation for mattresses.
Kinds
The Perrino company offers spring and springless orthopedic mattresses:
Spring models made on the basis of spring blocks, which are independent. The number of springs affects the convenience of the product.
Independent spring block provides comfort during sleep, because the load is distributed evenly over the entire surface. The springs do not creak, as they are located in the covers.
The choice of children's mattresses must be treated responsibly, because the sleep of your baby depends on the right model. Perrino offers comfortable baby mattresses. Their upholstery is made from latex or latexed coconut fiber to give softness and tenderness. Models from natural coconut coir and latex are very popular. Coir coconut provides reliability, durability and moisture resistance. To improve the anatomical properties of children's products, the manufacturer combines layers of latex and coconut coir. All models are environmentally friendly and safe for the health of the baby. They have a removable cover that allows you to conveniently and quickly carry out cleaning from various contaminants.
When creating children's models, Perrino took into account the physiological characteristics of the child's body. Mattresses provide optimal support as well as improve blood circulation.
The company offers models for giving, which will allow you to get enough sleep in the fresh air. The group of mattresses for giving includes cheap orthopedic models made of polyurethane foam. Mattresses are presented with soft and medium hardness options, they are very suitable for relieving fatigue.
Can pick up option economy or premium. Orthopedic economy class models allow you to solve back problems. They are suitable for any person, as they are distinguished by an affordable price and high quality. Premium class mattresses are made exclusively from natural fabrics and fillers, taking into account the latest developments and innovative technologies. Many models are presented by bilateral options that allows to choose the level of rigidity for each individually. All premium models are made from hygienically clean materials. They are the epitome of prestige and luxury.
By rigidity, all models of the company are divided into three types: hard, medium-hard and soft. Hard model is an excellent choice for those who have problems with the spine. It is better to buy such a mattress for children and teenagers when the spine is still forming. Mattresses of medium hardness are universal, they will suit everyone without exception. If you do not know what the stiffness of the mattress will suit you, then buy a product of medium hardness. Such options are suitable for children from three years.
Models
Main varieties:
Among the spring mattresses in great demand model "Medform Premium". Ergolatex is used as a filler - with universal properties and micromassage effect. The mattress has an average stiffness, it attracts attention with strength, anti-allergenicity and durability. It perfectly retains its shape, so it fixes the spine well during a night's rest. The Mediform Premium model is based on an independent spring block, reaches a height of 23 cm, and can withstand loads up to 140 kg. The mattress has a removable cover with a ventilation system and anti-stress impregnation.
Among springless mattresses, attention is drawn to the model. Plex. It is characterized by an affordable price and classic content. The mattress has a removable knitted cover that allows you to clean the product quickly and easily. The Plex model provides good support for the spine, as well as an even weight distribution over the entire surface. As a filler is used highly elastic and elastic ergolatex. Maximum load on a berth - up to 80 kg. This model has good orthopedic and anatomical properties.
Fillers and fabrics
Russian manufacturer Perrino creates orthopedic mattresses from high quality materials:
Ergolatex - innovative development, which is based on polyurethane foam. This material is characterized by elasticity and elasticity, holds the form even under the influence of strong loads. Ergolatex attracts attention with its low cost, anti-bacterial, water-repellent properties.
Natural Coconut Coir it is distinguished by its durability, does not absorb extraneous odors, it is perfectly breathable. This material does not rot, it is protected from insects.
Spunbond - insulation material that is used to create a layer between the spring block and other intermediate layers. Due to the presence of this material, the mattress is characterized by increased wear resistance. Spanbond perfectly withstands heavy loads, passes air, does not lose its rigidity.
For upholstery mattress company offers quality knitwear, aloe vera soaked. The material consists of 70 percent of impregnated cotton and 30 percent of polyester, which gives the product elasticity. The product has hypoallergenic and antibacterial properties.
Dimensions
The Perrino company takes care of its customers, therefore, it offers models in both standard sizes and for individual orders.
Standard models for children have a width of 60 to 80 cm, and their height can reach from 120 to 200 cm. The model 80 × 190 cm is ideal for teenagers.
Single mattresses have a width of 80 to 95 cm. One-and-a-half models include options with sizes in width from 100 to 135 cm, and lengths from 190 to 200 cm. Universal double models are mattresses with dimensions of 160 × 195 and 160 × 200 cm.
Care and maintenance
The manufacturer gives a guarantee on all orthopedic mattresses, but it is necessary to adhere to several rules (for long-term use of products):
During the first three months of operation of the mattress, the headboard with the footboard should be replaced, and the top to the bottom every two weeks. Next, the mattress can be turned only once every four months. This action ensures an even distribution of the load on the product, and also contributes to better ventilation.
So that moisture is not kept inside the mattress, it is worth once a month to make fresh air. Just 5 hours is enough for the product to be fully ventilated.
To eliminate dust You can use a vacuum cleaner. To get rid of slightly soiled spots on the upholstery, you should use a soap solution, while you should avoid strong wetting. The case is better to dry clean, you can carry out dry cleaning.
To remove heavily soiled stains, Use dry clean only. The cleaning agent must be properly selected, for a start it is worth trying it on a small area to check.
Mattress need to cover with an airtight coating, if you make repairs because it will collect all the dust.
Basic rules of operation:
You need to remove the packaging from the mattress and leave it for 6 hours so that it will get its original shape. It is better to transfer it to a well-ventilated room, so that the technological smell disappears.
To get the maximum orthopedic effect, the mattress should be used on hard and smooth surfaces.
Long-term storage and transportation of the mattress should be carried out in a horizontal position. It should be stored in dry rooms, where moisture is prevented from entering the mattress.
To extend the life, you should use the mattress with a mattress pad.
Customer Reviews
Products from the Russian company Perrino is known not only in Russia, but also in other countries. The manufacturer of orthopedic mattresses has established itself as one of the best - thanks to the use of natural materials of remarkable quality and increased strength.
A wide range of models allows you to choose a model depending on personal preferences. You can select the desired level of stiffness, filling and fabric upholstery.Products with removable covers are in great demand, since they can be easily removed for cleaning from dust or stains.
All models of the Perrino brand are characterized by good bactericidal and antiallergic properties. They are suitable for people who have back problems. The company produces a line of children's mattresses, the creation of which took into account the peculiarities of the formation of the child's body.
Find out more about Perrino mattresses in the following video.