Polyurethane mattresses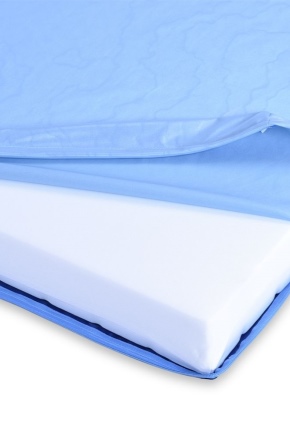 Orthopedic mattresses have long occupied a well-deserved place among the best-selling and useful bedding. Latex or coir models are especially popular with consumers. But not everyone can afford such mattresses. Therefore, in order to save the budget, manufacturers offer to replace natural raw materials with modern technologies and to purchase an orthopedic mattress made of polyurethane.
What is it like?
If we talk about production technology, then it may surprise many people, because The basis of polyurethane mattresses includes foam rubber. Having learned about this, the majority of consumers refuse polyurethane in favor of other synthetic materials, considering that foam rubber is absolutely not modern technologies, and it no longer fits into modern life. But this is not at all the case.Modern polyurethane foam is fundamentally different from the foam, to which we are accustomed and often met in the old furniture of the USSR.
The new generation of foam rubber is created taking into account modern technologies and innovative developments, which endow the material with new qualities:
practicality;
elasticity;
elasticity.
Modern mattresses made of polyurethane have a long service life and can replace more expensive high-tech mattresses. Some foam models are produced with varying degrees of stiffness on each side or combine the base material with raw materials of natural origin, such as coir or cork. Such experiments with fillers increase the efficiency of operation and increase the service life of the product.
Although polyurethane is a completely synthetic material, it completely harmless to health, since it does not contain toxic substances. That is why it is often used in the manufacture of children's mattresses. The filler is usually used foamed structural polyurethane, after it hardens, its structure changes and cavities are formed, filled with air.
Thanks to this airiness the material is resistant to rotting and all sorts of bed mites, it is practically not deformed and does not react to changes in humidity and temperature.
In addition to the usual filler, there is a more dense polyurethane, its price, respectively, is higher. It is based on empty cells of various sizes. They react differently to external influences, thereby maintaining a balance of softness and elasticity, and forming the necessary rigidity. When choosing a product in the store is, first of all, to study his passport. Stiffness parameters should not exceed 32 kg per 1 m3.
As for the price, the lower it is, the less density and comfort. Given that polyurethane mattresses are in the middle price category for their segment, you should not save very much on the purchase. Also, do not buy products with this filler for children up to a year, it will not provide the desired degree of rigidity.
Although polyurethane has air properties, It must be periodically ventilated and cleaned with a vacuum cleaner. If a spot appears on the mattress, it should be removed using household chemicals as soon as possible.Drying is better outdoors, avoiding heating appliances and open fire.
Like other orthopedic products, polyurethane should be periodically turned over, changing sides. This is necessary in order to avoid the appearance of pressed dents and to maintain the orthopedic effect.
Pros and cons of the material
One of the main qualities of the PU foam mattress is the orthopedic property and full recovery of the shape after sleep. But there are other advantages that are attractive to consumers:
Good value for money.
Resistance to decay.
Hypoallergenic.
Absolute safety filler.
Lack of deformation and preservation of efficiency with a long service life.
Easy care by any available means (including water).
Repeats the anatomical contours of the body, which helps to ensure maximum support and relaxation of muscles during sleep.
Due to the correct support of the spine, it prevents blood stagnation and improves its circulation.
Prevent bedsores. That is why such bedding is recommended for people who are overweight, for bedridden patients or for patients after surgery.
Ease of transportation.If necessary, the mattress is rolled into a compact roll that fits even in a passenger car.
But despite so many positive qualities, polyurethane filler has its disadvantages:
Cheap models are very quickly deformed and lose their original appearance.
Need constant care and cleaning.
The term of operation is no more than ten years. After a fixed period, the material is destroyed and loses its original orthopedic properties.
The material is completely synthetic, so the question often arises - how it can be dangerous to health.
Types of mattresses and their characteristics
Like other orthopedic mattresses, PPU are divided into spring and springless:
The first category includes independent spring blocks and springs of continuous weaving. Experts consider the first group to be more reliable and efficient, due to the fact that the springs do not depend on each other and provide better body support.
Springless models are filled not only with polyurethane foam, but also with coconut, latex. There are models with a filler from a polyurethane crumb and one of types of PPU - Memory Form, and also there can be mattresses with gel inserts.This material is also called viscoelastic PUF. A mattress with such a filler remembers the pressure of a person and repeats the shape of his body during sleep, and then slowly takes on its original appearance.
Also polyurethane foam is divided by density:
Standard.
Soft (super soft).
Hard.
Very tough.
Dimensions
By size, mattresses from PUF are divided into three main types: single, double, one and a half. Unary and double options differ from each other only in size and have an increased density. Such mattresses are considered the most practical models and are suitable for a long rest.
Double models differ not only in size, but also in density. It may be different on both sides of the product, such models are considered to be two-sided. Some consumers replace one double mattress with two, the size of which will be 190 x 80 cm. This will allow for each individual to choose the properties he needs, but in one bed. Another kind of size is non-standard. It is usually custom-made for custom beds for non-standard sizes, such as, for example, 60 x 140 cm.
In addition to the size of the perimeter, the foam mattresses are divided by thickness.The most popular products are 10 cm. They are made using a special technology, thanks to which the mattress can be washed.
Reviews
In order not to be mistaken in choosing a mattress, before buying it is better to get acquainted with customer reviews. We have prepared a review of the most popular models among consumers:
IKEA. Buyers of mattresses made of polyurethane foam of this brand mark the most important plus - this is the price. If you choose the rigidity, then consumers are attracted to more rigid models. Although the most popular is Beding. This is a single-layer mattress of PUF, which is suitable for any category of customers for daily use. Comes with a removable cover that can be replaced or washed.
MATROLUXE. Ukrainian brand, which won the trust of customers. Buyers have a long service life and no deformation, even on children's models, as the products consist of high-density polyurethane. There is also a removable cover made of 100% cotton. This will ensure complete hypoallergenic and breathable. In addition, buyers attribute to the pros a large selection of colors.
Big Roll is a model that belongs to springless mattresses. If you compare the reviews, many agree that this mattress is suitable for those who are used to sleeping on a hard surface. Filling of polyurethane foam of different density will provide support for the back, and a combination of wool and cotton between the filler and the top layer form the winter-summer effect. As for transportation, this mattress, twisted into a roll, can be conveyed from the store to the house in hand.
How polyurethane is made, see the next video.