Interior-style kitchen interior design in classic style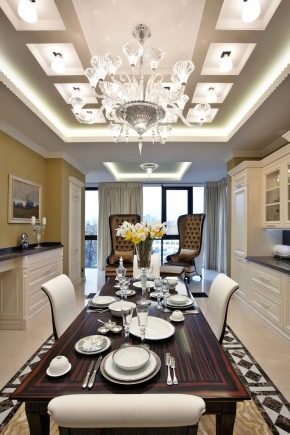 Special features
Finish
As an additional light source for the kitchen-living room, sconces, table lamps or floor lighting devices are well suited. It is better if all these devices will be in the same style. Lamps should illuminate the room well, but not focus attention on themselves.
Additional architectural elements
Real columns in the interior of the kitchen-living room - a rarity. As a rule, such architectural components imitate, erecting a relief using a wall panel. In the same way they build arches, which are necessary for the zoning of space. Columns can decorate the hob or the area around the fireplace.
Accessories
Recommendations