Kitchen-living room design with a bar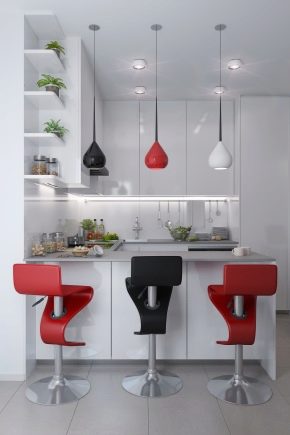 Varieties of racks and placement options
Layout
Classic high bar counter is suitable for those who like to organize parties and gather friends. It seems she was just made for a bachelor's apartment.
Style selection
Loft
Minimalism
Scandinavian
Mediterranean
Space zoning
It is not necessary to regard the bar counter as a separate element. It should fit into the existing interior concisely and complement, and not interfere with it.
Successful examples of the interior
Dimensions and materials
The bar counter is becoming an increasingly popular item used in the design of kitchens and living rooms. It is functional, capable of giving special chic to even the most modest room. And although its original function is now slightly expanded,this gives it only greater relevance in the interior design of a modern stylish apartment.