Kitchen in a private house, combined with the living room: how to properly plan and arrange everything?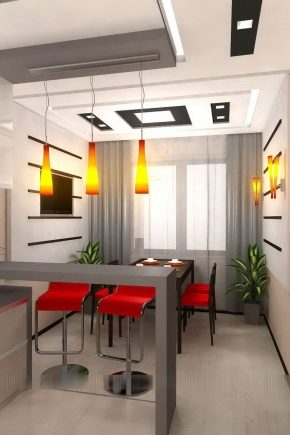 Fashion trends
Another problem - the kitchen and dining room is a source of garbage, which inevitably appears during cooking, lunch and dinner, held in the kitchen-living room. To crumbs, cleaning and other "side components of food life" are not taken away across the room, cleaning has to be done very often.
The organization of the kitchen-living room is appropriate both in a country house of a modest size and in a huge one, where it is important not to get lost in the free space.
Subtleties of planning
In order to have a lot of air in the room, sometimes a part of the roof is left uncovered. Then the living room appears to be in the attic. If windows are provided on the ramps, they are an additional source of light. In the kitchen area, the ceiling is usually left without alterations. This solution shows itself especially well in rooms of small and medium size.
If a kitchen with a hall in the building provides access to the terrace, it becomes possible to organize a dining area in the open air. Sliding glass doors between the living room-kitchen and the terrace in one movement combine both spaces into one.
Design Tips
For the dining area, it is advisable to purchase high-quality furniture - a large sturdy table and heavy wood chairs.
The overall color scheme is better to withstand in pastel colors. To decorate the floor in the living room choose parquet or laminate. For the kitchen - a stone or tile of light colors.
Beautiful examples of the interior