Design of the kitchen, combined with the living room, in the "Khrushchev"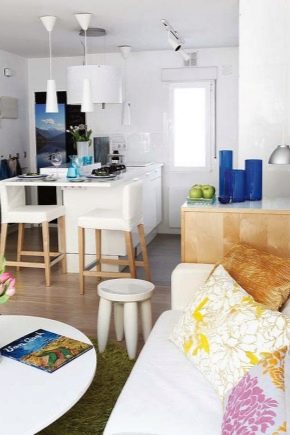 The advantages of combining rooms
Minuses
A separate problem is the settlement of issues related to the redevelopment in the BTI, since permission is required for the demolition of partitions. It takes time to legitimize demolition and other actions related to housing improvement. Paperwork, and especially repair itself, require financial investments.
Space zoning
In the course of work, it is necessary to make it so that in the decor of the kitchen and living room there remains a certain unifying beginning. This may be the color of the curtains, the overlapping pattern of different wallpaper, furniture elements and so on. Then, with a clear delineation of zones by functional, there will be a feeling that this is a common space, and not two different, as it was before the redevelopment.
Wall, ceiling and floor decoration
Furniture placement
Lighting
Successful examples of the interior