Brick fence in landscape design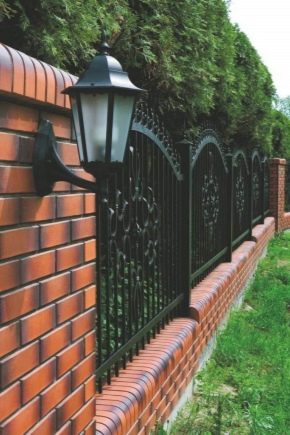 Special features
If you wish, you can add a brick fence with stone, wood, stylish artistic forging. The latter option is advisable if you want to create an environment that is externally interesting and not too catchy.
Calculation of materials
Determine the desired height and depth of the barrier; if it is rather decorative, it is permissible to build ½ brick, in which elements are laid with an elongated side along the designated line. But if you want to strengthen the protection of your territory, use at least one and a half bricks.
All country and garden plots are better protected with structures no more than 150 cm tall, and only from grids or gratings based on various materials.
The exact calculation is the easiest to do, based on the data of the cadastral plan, then you will not have to do independent measurements.
Important: above the layer of earth, the concrete must be raised at least 0.1 m.
Approximate consumption of raw materials upon receipt of 1 cu. m of concrete is about 3 centners of cement in a handicraft way, 10 centners of washed sand and gravel each. Per cubic meter of brickwork consumes up to 0.3 cu. m of mortar - this figure has already laid the probable loss, inevitable even with very professional work.
Types of masonry
Important: the key color covers at least ½ the entire area, and the remaining two or three tones are distributed in a randomly selected manner, as you see fit.
Erection technology
Since the installation of supports depends on the size of the load, the thinner the created barrier, the less often it is possible to mount columns.
Important: bricks fences can not be made in bricks, only in ½ and above, otherwise they will not be reliable enough!
Important: the optimal choice of the type of material requires taking into account the weather conditions and the properties of soils in a particular area.
Decor
Important: their height above the top edge of the fence should not exceed 50 cm. Such a solution is outwardly attractive and, in addition, reliably stops most unprepared intruders.
Selecting a combination in a country house, in country ownership, be guided by the color scale of a garden path and platform; In this case, it will be possible to use for the design of the facade of the dwelling not just a different color, but also completely different material.
Combination of materials
Beautiful examples
Choosing a brick