Arrangement of loggias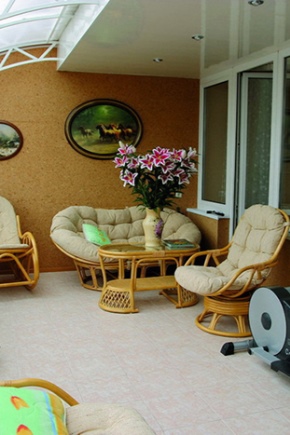 Glazing, waterproofing and finishing
No further action is possible without these components, as the balcony will be cold, and extra street noise will be heard from the street.
In the process of working on waterproofing, you can do the outer cornice.
Sheathing is always selected in accordance with the tastes of the landlord and the overall style of the home. An important role here is played by the budget owners.
If you have experience in repair and construction, then any work can be done with your own hands. If you have doubts about your own strengths and knowledge, then it is better to turn to professionals.
Design projects
For 3 square meters. m
Do not overload the balcony with unnecessary things. Stick to the minimalist style and simple lines.
Put soft puffy pillows or mini-ottomans on the floor and you will have a wonderful recreation and creativity area!
For 6 square meters. m
But do not think that with such a placement on the balcony will be only a pantry.If you carefully and correctly place all the stored items, then you can easily put there a small sofa or a coffee table with a pair of folding chairs.
We select furniture
It is not recommended to force spacious balconies with a large number of pieces of furniture. You should not think that a large space must be "hammered" with something, so that it does not seem empty.
How to make the atmosphere cozy?
If you have designed a loggia in pastel and soothing colors, then in such an ensemble, a gentle carpet of beige or caramel color will look best.