Loggia windows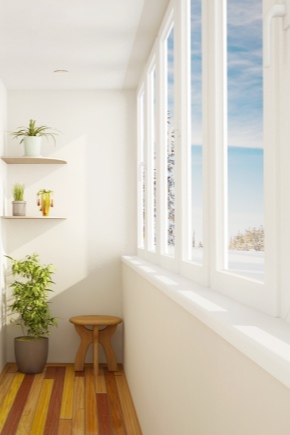 Special features
Particularly impressive they will look in the spacious loggias on the upper floors.
Types of windows, their pros and cons
Plastic
Wood
Even proper and regular care does not guarantee the preservation of the original appearance of such frames. After some time they will begin to crack, which will lead to the appearance of cracks.
Aluminum
Types of glazing
If you prefer warm glazing, the loggia can be used all year round, as it will always be comfortable.
They are encouraged to contact people living in beautiful places or on the upper floors.
Tips for choosing
If you are not going to spend a lot of time on the loggia, you do not need it all year round, then you can get by with cheaper cold glazing.
However, do not forget that they make the loggia too open. Everything that happens on it will be able to see passers-by, so you should buy blinds.
Installation steps
If the loggia is 3 m, then, as a rule, it is whole. It is raised and set by level. Double-glazed windows at this time must be removed from the frames.
All gaps must be treated with foam.
Examples in the interior