How to make a floor on the loggia?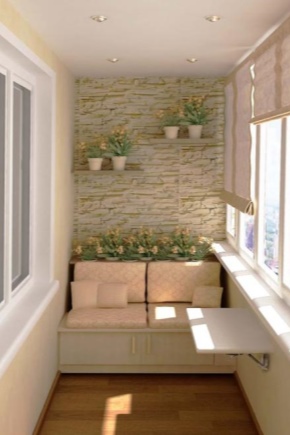 Materials, their pros and cons
Together with heaters, you must additionally purchase polyurethane foam and vapor barrier film (membranes) to remove possible gaps between the blocks.
Paint
Ceramic tile
Decking
A wide variety of colors and textures allows you to choose the material for any design.
Wooden floor
Such a floor, made in natural shades, fits well into any interior. Wooden walls can be added to it.
Linoleum
Due to the variety of colors you can choose linoleum, imitating parquet, decorated with patterns or geometric shapes.
Laminate
Main steps
It requires not only the laying of materials, but also the preparation of the surface.
Surface leveling
The functions of the lags include the ventilation of the space under the boards to prevent them from rotting.
To hide the drop in the level of the floor and the gap, at the edges of the balcony have powders.
Floor insulation
Approximately the same fit foam.
Penoplex is resistant to moisture and chemical compounds, it does not burn.
Raising the floor
Tips for choosing
And the use of linoleum or carpet is meaningless, because they can not withstand heavy precipitation.
Light pastel colors will visually enlarge a small room, while rich and vibrant will give the interior a concept.