Chandeliers in blue colors: a combination in the interior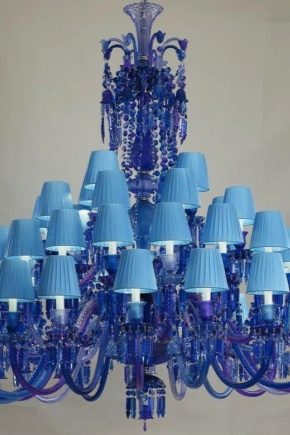 Blue color causes a lot of associations - sky, sea, frost, fog, ocean. Most of them are positive. This is the color of peace, tranquility, harmony and silence, which is why lighting fixtures of this color are so popular today.
Special features
According to psychologists, the blue color contributes to rest, relieves stress and reduces emotionality. For many, this color is a favorite, and each owner tries to arrange the house according to his preferences. Blue chandelier can be an addition to the interior in celestial colors, and can serve as a bright accent.
If you are wondering in what room such a lamp would be appropriate, then the answer is simple - in anyone, be it a bedroom, living room, nursery, hall or kitchen.The blue chandelier can decorate any space, of course, provided it is harmoniously combined with other interior items.
Types
First you need to decide on the type of chandelier. It can be ceiling or suspended. Here is a simple rule: the smaller the room, the more compact the lamp should be.
In a room with a low ceiling (no more than 2.5 m), an elegant hanging chandelier on chains will look cumbersome and inappropriate. But the blue ceiling light will give the interior lightness. Even in a modest bedroom in the bedroom, such an item will create a kind of romance of romance. In rooms with low ceilings chandeliers look good with small shades, the light of which is directed upwards.
Chandeliers can be provided for a variety of bulbs, from fluorescent to halogen. However, the most popular and economical are LED options. They look attractive and modern.
There are a huge number of interesting models on the market (including those with lighting), the color of which you can change as you like, changing the "mood" in the room. For example, chandeliers with stars and blue lights look a bit mysterious, and, of course,romantic
LED chandelier with control panel is a pragmatic solution for a child's room. Management in these models is simple. Even a preschooler himself will be able to adjust, for example, the brightness of the light. And you can do it from the next room.
The rule of "three colors".
When creating a harmonious interior designers are guided by the "rule of three colors." Its essence is that when creating a harmonious color solution, we give 60% of the space to the basic shade, 30% to the additional and 10% to the accent.
The choice of blue as the main one should be approached responsibly. Much depends on the "correctness" of the shade. A room in dark blue may look gloomy, and a gray-blue is too formal. You should not choose a particularly elaborate chandelier. It will look good simple, but textured model with minimal decor. The right solution is a laconic and hi-tech lamp.
If blue is an additional color, you need to keep the balance: the chandelier should be noticeable, but not "heavy".
With this task cope suspensions with blue shades. Pay attention to the laconic classic models, floristry, loft, interesting high-tech.Perhaps your decision will be the choice of the lamp in the style of Provence.
For a bright blue accent, you can choose the most spectacular model. Tiered construction, chandelier with crystal pendants, country, oriental style, chandelier "from Tiffany" - here the choice is almost limitless.
Styles and shades
In the famous palette Panton blue is 180 shades.
Light and dark shades of this color are perceived differently in the interior:
lamps of saturated color make notes of coolness, freshness. They will help to make the design of the room not boring, active;
Light shades of blue, such as blue, aquamarine, and turquoise are used to create unobtrusive, airy interiors.
Suspensions in the blue palette perfectly complement the design of the premises in a modern, classic and minimalist styles. Interesting will look bright chandeliers in the vintage interior, or in the style of chebbi-chic.
A luminaire with blue shades will create a cozy atmosphere, even if they have geometric shades. But often they are performed in floral style. Among the "light" models there are much more "elegant" chandeliers decorated with beads and intricate décor on lampshades.
Fine suspensions are simply made for art deco and art nouveau. Blue color perfectly harmonizes with natural wood, and such chandeliers fit well into the styles of country and Provence.
Pay attention to the lamps in modern style. The fact is that the design of such lighting fixtures is universal. Modernist chandeliers easily recognizable. Their lightweight structures are most often made of steel and frosted glass. They are symmetrical, streamlined, unobtrusive and easily fit into any interior.
Option "for the brave" - ​​a fusion chandelier. A distinctive feature of such models lies in their extravagance, since the style itself is "the compatibility of the incompatible". The unusual shape and set of different textures are characteristic features of such devices. If you assume that the chandelier should be an accent in the interior, fusion, then fusion is a very suitable solution.
How to make a blue chandelier with your own hands, you can learn from the following video.