Features of mattresses Lazurit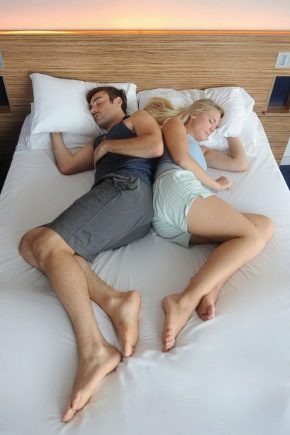 The Lazurit brand is a fairly well-known company in Russia that supplies premium-quality mattresses to the market. The company is successful, its products are in great demand, despite the prices that differ from their counterparts from other manufacturers. To understand what are the features of Lazurit mattresses, you need to have a general idea of ​​the range, its merits and the presence of weaknesses.
Benefits
Lazurit mattresses are made according to modern technologies on professional equipment, ensuring the release of standard models, taking into account the approach to each potential client.
To date, the collection is a medium mattress, the surface of which can be hard or alternate.There are no too soft mats in the rulers: the main assortment is set up to properly support the spine during rest or sleep.
Mattresses domestic manufacturer:
have a wide model range, differing in the structure of the block, its size, height and type of filler;
are made of modern hypoallergenic raw materials that do not adversely affect the body, therefore they are suitable for any type of user, including taking into account medical indicators;
have a triple type of parameters of the size scale, taking into account the length, width and height of the block;
for convenience of choice, they are divided into separate lines with different names (in English and Russian);
performed with a symmetrical and asymmetric addition of both sides of the block;
in metal-frame structures, they have a perimeter reinforcement;
suitable for users of different ages and body builds, considering the multi-level body pressure on the mat;
they are equipped with a stylish volume cover on a single-format sintepon or with a print made on a light base;
have an orthopedic effect, performed with a different structure and type of surface rigidity.
Minuses
The cost of premium domestic mattresses can not be considered acceptable, even justifying the price of raw materials used. If a cheap option costs from 8,000 rubles, the price of an elite equivalent reaches more than 85,000 rubles.
The structure of the brand's blocks is not very different from many other companies, so looking at the product and correlating it with the price, the buyer is forced to look for more reasonable options considering the budget and quality.
Dimensions
Dimensions of domestic brand mattresses are different. Today the size range is divided into three groups:
single mats - with dimensions of 23x90x200, 25x80x200, 25x90x200, 25x100x200, 25x100x200, 27x80x200, 27x100x200 cm;
one and a half-sleeping models - more spacious options for one place with dimensions of 23x120x200, 23x140x200, 27x140x200, 25x120x200, 25x140x200 cm;
double mattresses with a spacious bed for two places in the form of an area of ​​23x160x200, 23x180x200, 23x200x200, 25x160x200, 25x180x200, 25x200x200, 27x160x200, 27x180x200, 27x200x200 cm.
In fact, the size range of each ruler is different in width and height. For thin designs are models with a thickness of 15, 17, 19 cm. Standard mattresses are 21-27 cm in height.
Models
According to the structure of the block, the company's assortment is divided spring and springless composite plan designs.
In other words, they have a core, supplemented on both sides with a variety of filler to provide the necessary support to the spinal column, reducing the load on the muscles of the body. A rare phenomenon in the springless mattress lineup is monolithic mats from a single layer of filler with perforation, packed in a volumetric quilted cover with a patterned stitch.
Such structures, often medium-sized, have a maximum permissible load of 90 kg, are made of orthopedic foam with a double type of surface relief and weigh an average of 8.5-9 kg.
In addition to orthopedic foam, the brand uses natural latex, sisal, coconut slab, several types of orthopedic foam, independent springs in the model development.
Models on springs are characterized by a large indicator of the load on the place (up to 150 kg). Due to the combined type of structure and the presence of a large number of springs, their weight is almost twice the number of springless counterparts and averages about 15.8–20 kg.
Rulers differ not only in the composition of the core, but also in price:
"Smile" - one of the most popular models on independent springs, packed in multi-colored covers, have multi-level support for the user's spine, cost from 18,100 to 39,600 rubles.
"Advance" - line of spring models of independent type 8 sizes cost from 21,500 to 53,000 rubles.
Plezhe - springless models of latex with different additives without amplification around the perimeter, in stylish light covers with a vegetable print, the price of which varies from 20,500 to 55,500 rubles.
"Diamond" - "Micropackage" on independent springs with reinforcement around the perimeter, made with the addition of latex and coconut plate, the price of mats depends on the size and ranges from 27,210 to 87730 rubles.
"Lapis lazuli" - premium mattresses on springs of the independent type "Mikropaket" with a maximum permissible load on the block up to 150 kg, supplemented with two-level foam, equipped with a velor case, their cost varies from 38,600 to 94360 rubles.
"Beliv" - ruler, focused on the mass buyer, with a maximum load on the place up to 140 kg, block height 21 cm, weight of the product up to 29 kg, priced from 12,170 to 29,300 rubles.
"Love" - budget models of springless monolithic type of memory foam and a small load on the place (90 kg), with an average block weight of 14.8 kg, priced from 11630 to 24800 rubles.
"Strong" - a premium line of mattresses of independent type reinforced around the perimeter on pocket springs of the same color and a coconut plate, packed in stylish covers with a print and stitch, the price of which ranges from 29,000 to 6,700 rubles.
Cupid and Passion - a special elite range of light gray-packed springless mattresses printed in stylish covers consisting of four types of memory foam (support for the body in a dream, seven-zone multi-level and breathable) that can withstand a place load of up to 150 kg, having a cost of 65,500 up to 83300 rubles.
"Amur", "Peshn" - in fact, the basis of the previous line, consist of the same raw materials, have approximately the same cost, but more diverse dimensions (there are models for teenagers).
Hi-tech and Saint Session - 4 D spring models with perimeter reinforcement, a layer of sisal along the top and bottom, the addition of orthopedic and viscoelastic foam that can withstand user weights up to 150 kg, having a cost from 25,100 to 61,000 rubles.
"Speaker", "Young" and "Active" - spring mattresses, packed in a white quilted cover on a viscose jacquard padding polyester, have a multi-level 5-zone load, complemented by a coconut slab and foam that can withstand user weights up to 140 kg (vary in price from 25660 to 55000 rubles).
Reviews
Customer opinions about brand mattresses are controversial. Some clients, having tested the company's products, assure: the price does not meet expectations.Despite the interest-free installments, which appeals brand, mattresses in the end are several times higher than the analogues of world-famous companies. Moreover, products of other brands are often better fulfilled, they last longer without being deformed. It repels buyers obsessive sellers who literally do not give passage to the buyer as long as he does not acquire the goods.
Other buyers leave positive comments, assuring: the brand is worthy of attention, and its products are high-quality and durable. Satisfied with the choice, they note the inconsistency of negative feedback, stating: the brand's mattresses are unique and practical, they are worth the money invested.
Features of Lazurit mattresses - in the next video.