Twisted mattresses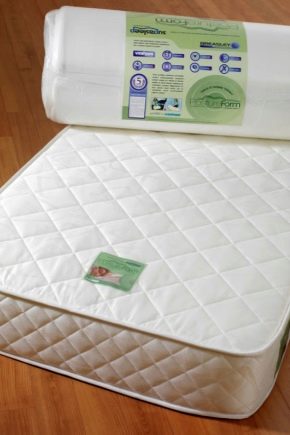 Special features
It is impossible to twist hard orthopedic mats from a thick layer of coconut coir, bikokosa, horsehair. For the most part, curled mattresses are soft mats. In addition, you can not pack in a roll model on the springs with a metal frame: it does not fold.
Merits
In addition, the removable model is easier to change if it has become unusable (companies provide additional covers for some models of the line, such accessories can be ordered to an individual model or buy a universal plan).
Minuses
How to unpack?
Nuance: since all models of rolled mats are different, the information on the package cannot be ignored: it is written on it for the period of full restoration of the unit during which it is not recommended to use the mattress.
Dimensions
Manufacturers
Reviews
In the comments, users note that the price for rolled mattresses is somewhat overestimated and is about the same as the model with orthopedic and additional effect, which reduces the ratings of such mats.