Vega mattresses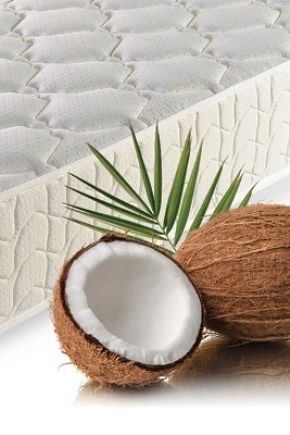 Thinking about a comfortable and healthy sleep, people get popular Vega mattresses made of high-quality materials and fillers. This product greatly affects human health and mood. That is why you should carefully consider the arrangement of the ideal bed. Everyone wants to have a healthy daily and complete sleep, which can provide a perfectly matched orthopedic mattress. Not every product can complete this task. It will be necessary to carry out a full analysis of each model on the market and find the perfect option for yourself.
Right choice
Choose a product that will support a healthy person's sleep is not easy.There are about 300 models on the market. Not everyone can independently make the right choice of an orthopedic mattress that will support the spine and help you sleep well.
Popular Vega mattresses are in great demand. They are purchased for permanent use. The service life of products - about ten years. When choosing, you need to consider some parameters:
The size of the product. If the mattress is bought on an existing bed, then measure its internal dimensions. The dimensions of the bed should coincide completely with the size of the mattress to be purchased. The width of the double product - 160 centimeters, and single - 90 centimeters.
There are beds with non-standard sizes, in this case, the manufacturer manufactures mattresses according to individual parameters.
Weight category. When choosing an orthopedic mattress, it is necessary to take into account the daily applied loads. A person with a small weight will feel comfortable on a soft product.
The design of the mattress. Products are available with or without springs. Each mattress is unique in its own way, so the choice is to be made, based on their own preferences.
Stiffness coefficient selected by weight and age of a sleeping person. Tighter models are selected for small children to support their growing spine. For older people, only soft products that do not create pressure on the body are suitable.
Applied materials and fillers. They should be comfortable to the touch, have excellent orthopedic properties, serve for a long time.
The listed criteria are the main ones to be paid attention to when choosing an orthopedic mattress.
Fillers
When creating its products, Vega uses the following materials:
Natural latex. It is used for the manufacture of orthopedic mattresses. It has many positive characteristics: good elasticity, excellent elasticity, withstands constant weight loads; restores its original form. These properties affect the orthopedic characteristics of the material. Latex material is very soft and pleasant to the touch. It is hypoallergenic, serves about 20 years. Used as a filler for springless mattresses.
Artificial latex It is considered an excellent analogue of natural material. It is environmentally friendly and has a lower price.The only difference from natural latex is increased stiffness. The remaining properties are completely consistent with natural materials.
Artificial material polyurethane foam is widespread. The advantages are environmental friendliness and low cost. Modern material has good density.
Mattresses with foam filler not durable and with constant use crushed and crumbled. The low price allows you to buy a foam mattress for temporary use or for a country house.
Natural Coconut Coir widely used to achieve extra rigidity. The material is short-lived and at constant load it ages and crumbles. Pressed coconut fiber does not tolerate heavy loads.
Popular models
The most popular items are Comfort series mattresses. They are made of a block of independent springs that support the body in the correct position during sleep or during rest. Springs work independently of each other. At production fillers from natural latex, coconut fiber, foam rubber and holofiber are used. Independent springs ensure healthy sleep.Springs with high elasticity perfectly support the human body, even with minimal weight. This provides minimal mattress deflection and pressure on the spine.
Mattresses "Vega Comfort Eco" have average rigidity. The filler is felt, fastened using a heating process, and the outer surface is made of natural jacquard.
A block of independent springs allows you to withstand a load of 110 kilograms.
The mattress "Vega Comfort Eco Prestige" has a filler made of polyurethane foam, has medium hardness characteristics. A layer of heated and glued felt increases stiffness parameters. The berth can maintain up to 120 kilograms. Mattresses
"Vega Comfort Eco Sofia" with different fillers on each side. The surface for the cold season is made of polyurethane foam, for strength use thermally bonded felt. The inner side layer for the summer period is coconut coir, and the surface is made of cotton jacquard.
The sides of the Vega Comfort Relax mattress have different stiffness. The product has a spring unit, and each of the surfaces has a different stiffness. The insulating layer is thermal.
Models "Vega Comfort Eco Max" with increased rigidity, where the filler is coconut coir, and the cover is made of cotton jacquard. These models are based on independent springs.
Children's orthopedic mattress "Kroha Hollo" has no springs and has an average rigidity. The filler of this model is hollofiber, and the cover is made of cotton jacquard or calico.
Children's products "Umka Memorix" springless, with different stiffness on both sides. One is average and the other is elevated. Coconut coir filler.
The mattress "Vega Comfort Coco Hollo" with increased rigidity and independent springs consists of a combination of coke coir and holofiber, and an insulating layer of spunbond.
Pro popular mattresses firm Vega, reviews in most cases positive. Of course, there are dissatisfied users of these models. Someone doesn't like the stiffness index or the material.
Advantages and disadvantages of springless models
Products have a number of advantages:
Orthopedic effect. The rigid structure perfectly supports the spine. The filler in this model is coconut coir. Such products are great for people with spinal problems.This type of product is great for a comfortable stay.
No creaky and noisy elements in the design.
There are no metal parts that accumulate electromagnetic waves and harm human health.
Do not require additional care, but only the annual cleaning of dust and debris.
These models have several disadvantages:
High price.
Restrictions on the weight category of the person.
There is no way to check the filler.
Tips for choosing a good orthopedic mattress
The mattress should provide good comfort during sleep. If you choose the right product, the spine will be in the correct position. Each product has its own advantages and disadvantages.
Springless models are suitable for patients with problems of the musculoskeletal system.
Spring analogues are made with independent elements or with continuous weaving. Independent spring units are flawed, they bend under constant load. The design is completely silent, because each spring is in a separate case. The filler can be any: natural or artificial latex, pressed coconut fiber or foam rubber.
You will learn how to make Vega mattresses in the following video.