Types of mattresses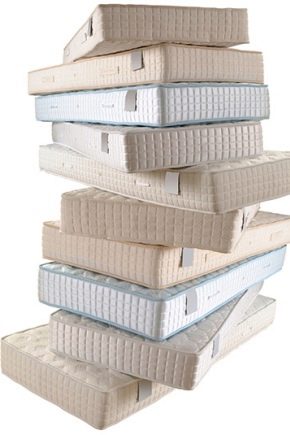 What are the?
The main lines competing with each other are mats with and without springs. It is impossible to single out one of them, as in each collection there are mattresses worthy of attention and purchase.
Features and benefits
disadvantages
What is the difference?
Springless models
The uniqueness of springless fillers is excellent compatibility with each other. Due to this, it is possible to change the properties of the mattress, making its surface more comfortable and comfortable for the user's body.
Filling blocks
Features of spring blocks
The difference between the structure of the two grids is small, but the work of the springs is radically different.
Which models are the best?
These models provide quite comfortable and comfortable sleeping conditions. However, it is worth remembering: if there is a disease of the musculoskeletal system, you cannot do without the consultation of an orthopedic doctor before buying. The fact is that with different pains in the back, the model of the mattress can aggravate the course of the disease.
How to choose?
If you choose from mattresses based on springs, you should prefer models with pocket springs (closed) type.