Garden furniture from pallets: what can you do with your own hands?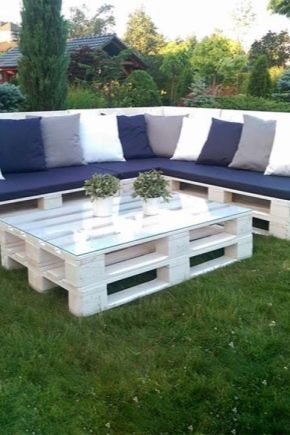 Nowadays, the use of some objects or materials is quite popular in order to preserve ecology and natural resources. Therefore, you can easily help the environment by simply making something with your own hands from the materials used previously. Such an example are wooden pallets, of which you can create a lot of interesting household items, and, in particular, garden furniture.
Features of the selection and preparation of material
The use of pallets helps to preserve your finances, because getting or buying pallets is much cheaper than buying ready-made furniture.In addition, having made this furniture yourself, you will leave a part of your soul in your work, and in the future it will bring you not only benefits, but also warm memories. A great advantage of garden furniture from pallets is its environmental friendliness. When buying ready-made goods, you cannot be sure that they will not cause any damage to your health, and when you make your own product, you control the safety of all the products used.
We select pallets suitable for work.
The weight of the pallet should be about 15 kilograms.
Its size can be different: both standard and euro.
The pallet must be of high quality and free of any defects; the pallet must be able to withstand rather large loads.
The wood used for production must be of high quality, durable and with a long service life. These requirements correspond to pallets of lime and pine.
If you use pallets that have already been used before, then you need to carefully select the material without cracks and signs of rotting.
Now the product must be prepared for work.
First, the pallet must be completely cleaned of dirt,then wash it in water and dry it very well.
The next very important step is to remove all irregularities and roughness from the surface of the pallet. Make it very easy: it is desirable to get a grinding machine or use a more economical option - sandpaper. With the help of the acquired funds, it is necessary to process the entire wood surface completely in order to further avoid the possibility of scratching or getting splinter.
At the final stage of preparation, it is necessary to treat the pallet, at least its lower part, with a primer with a water-repellent effect in order to avoid wood rotting.
The following pieces of furniture can be made from pallets:
beds or sofas, the softness of which can be adjusted by covering the pallets with foam rubber or using various pillows;
tables or stands, which can be used for different purposes;
shelves on which you can put books or something like that;
benches, seats or swings, with the help of them you can decorate your garden plot;
elements of decor, they carry almost no functionality, but add comfort to your home.
Step-by-step instruction
In fact, there are so many different ways of making garden furniture with your own hands, in this article we will consider only some of them. You may have your own ideas on how to create this or that piece of furniture, but if they are not there, then you can use the already proven tips in making furniture by steps.
Stages of creating a garden bench
First you need to prepare all the necessary materials and tools (3 pallets, wooden bars or slats, metal corners, a grinding machine, an electric drill, screws or screws, and do not forget about the means of protection - building gloves and glasses).
Then you need to carry out all the preparatory work with the pallets, to grind and process them.
Next, a drawing is made with the exact dimensions, before that it is necessary to perform measurements of the area where it is planned to put a bench.
Then, completely following the drawing, you need to cut out all the necessary parts, and also, if necessary, cut the pallets themselves (in this case, you need to cut the pallet into two parts, one of which will be the back and the other the seat).
The most important stage is the assembly.Following the drawing, you need to assemble a finished bench using screws and wood screws. First you need to connect the back and seat with the help of bars or slats. Then armrests and legs are made of the bars.
At the end, the finished bench can be varnished or painted, cut out some decorative patterns on the back and armrests.
Making a garden hanging bed
The preparatory steps for creating this product are identical to the previous description. You need to prepare all the necessary tools (screws, screws, drill and all protective equipment), and then process the pallets.
By the same method you need to draw a scheme for creating a future product for the rest.
Next, you need to connect the two pallets with slats and screws, on the sides of the resulting large pallet it is necessary to build the wall for the mattress.
At the end of the work, the finished product should be hung on a previously prepared attachment with ropes or chains, and then arranged on a bed for a place to rest with pillows and a mattress.
We make a table and chairs
Preparation for the creation of garden furniture is the same as in the previous versions.
In the manufacture of the garden table you need to decide for what purposes it will be used and what size it will be the most optimal for you.
Most often, such a table is made small, using only two pallets, which are placed one above the other and connect them with two slats. This product is not suitable for magnificent feasts, but you can drink coffee or tea at such a table without problems.
Country chairs are made on the principle of creating benches, only in smaller sizes.
Making garden furniture is a fairly simple task.for him there is no need to have any special knowledge, the desire and simple ability to work with hands is enough. Products from pallets are environmentally friendly and economical, they fit well into any interior of the cottage. The main thing during all the work is not to forget about protecting your own health and the environment.
How to make a sofa out of pallets, you will learn in the next video.