Glass Glue: Choice Features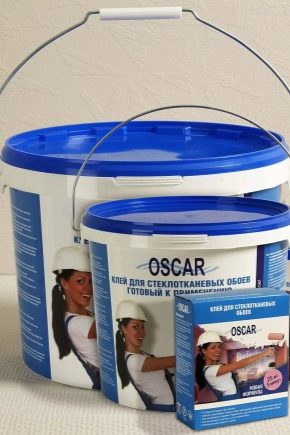 Benefits
Regular glue to this type of fiberglass will not work. You will need a mixture with a more complex composition, additives and high adhesion.
Description
Specifications and composition
There are also varieties of adhesive solutions of a narrower or more broad focus. It all depends on what kind of glass you have, as well as on what surface you want to glue them. For fiberglass fit the following adhesive mixtures are suitable.
Universal
The compound adhesive contains additives that allow you to glue non-woven, fiberglass and other wallpaper surfaces.
Based on pva
Dispersive
Heat resistant
When choosing adhesives, pay attention to their quality, the place of the manufacturer on the market, as well as compliance with the standards and requirements of GOST.
Overview of popular manufacturers
Oscar
Kleo
The main feature of Kleo is that it makes wallpaper breathable, and this prevents the appearance of mold and fungi.
Quelyd
The sheet can be corrected and corrected during gluing. Glue Quelyd after drying does not stain.
Metylan
What to consider when choosing?
How to calculate the quantity?
Useful tips from the pros
Given the above nuances, fiberglass wallpaper will be glued exactly and efficiently and will last for many years.