Mapei glue: product types and specifications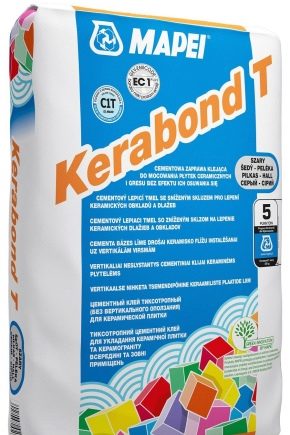 Often, construction and repair work require the use of adhesives. Therefore, many manufacturers offer customers a wide variety of adhesives, among which there are universal and specialized compositions. For many years, Mapei glue, a product of the same name Italian company, widely represented on the Russian market, has been considered one of the leaders in the presented adhesive variety.
Special features
Mapei - a company operating in the construction market for over 70 years. It constantly increases the range of its products, including adhesives, leaving unchanged the high quality of all the materials produced. In addition to excellent product quality, confirmed by ISO 9001, The undoubted advantages of Italian adhesive compositions include several factors.
Environmental friendliness. All components used in production are safe for humans and the environment.
Versatility. Brand adhesive is equally well suited for large objects and private low-rise housing.
Ease of use. To use Mapei, it is not necessary to have extensive experience in construction. They can be used with equal efficiency by professionals and those who do self-repair for the first time.
Efficiency. It is enough to apply a small amount of the composition for high-quality adhesion of the two surfaces, which significantly reduces the cost of repair and finishing works.
UV Resistance and increased strength. The material does not lose its properties with time.
Fast enough to harden (within 4 days) and the ability to withstand the maximum load. This makes it possible to glue even heavy materials with it.
Water repellent properties. An additional advantage of Italian adhesives can be called simple and quick removal of excess from various surfaces.At the same time, finishing materials are not damaged and do not scratch.
Disadvantages, according to the assessment of masters in the field of construction, no. However, when buying, you need to be vigilant in order not to buy a fake product of a sought-after manufacturer.
Scope of application
The properties of Mapei construction adhesives allow them to be used for finishing:
walls, ceilings and floors inside residential and office premises;
external facades of buildings;
swimming pools;
baths and saunas.
With it, stick:
various types of tiles and mosaics;
PVC panels and other plastic elements;
all kinds of flooring (parquet, cork, linoleum, carpet), including heated;
decorative elements of granite;
textile, vinyl wall coverings;
all sorts of elastic coatings;
rubber sports flooring.
Suitable glue of the manufacturer and to work with different types of insulation. At the same time, heat insulation material can be glued to concrete and wooden substrates.
Range
Total company Mapei offers consumers several dozen different adhesives, which allows you to choose the best option for each case.All Mapei adhesive products are divided into several groups. The first group - in composition. It includes adhesives:
cement based;
based on synthetic resin;
reactive polymeric compositions.
According to their purpose, the compositions are intended for ceramic tiles and flooring. The options for the floor may vary depending on the material used for registration. Each adhesive brand of the Italian brand has its own "fans", but several are among the most sought-after ones.
Keralastic t
Universal glue for mounting ceramic tiles and stone on screed, plastered walls, concrete, asphalt, wood, metal and plastic panels, reinforced polyester, gypsum, gypsum plasterboard and other surfaces. It is possible to apply structure when finishing internal and external walls.
The composition of Keralastic T is a two-component polyurethane adhesive, in which there is no water and solvents. The components of the glue are mixed immediately before use and form a thick elastic paste, the life of which is 30-40 minutes, after which it begins to set and dry.
Regardless of the material of the base and the gravity of the tile, the trim elements do not slide down. The adhesive itself hardens without shrinkage, firmly fastening two different surfaces. It is possible to use a two-component adhesive composition at an ambient air temperature from +10 to + 30C. Keralastic T is implemented in metal cans. Each kit must include a polymer (component A) and a hardening agent (component B). The weight of the kit can be 5 or 10 kg.
Keraflex maxi
Treats glue structures on a cement basis. Use it for sticking tiles (most often large-format) or stone on a variety of surfaces. In this case, gluing this composition is allowed on uneven walls without prior alignment. Keraflex Maxi is a gray or white powder, which includes cement, sand, grain size, synthetic resins and special additives.
A number of substances added to the mixture were developed at the company's research center. Before use, dry powder is diluted with water. The instruction prescribes that the prepared solution must be used within 8 hours.It is possible to apply this type of structure on any surfaces at a temperature from + 5 to + 35.
Granirapid
Fast setting two-component adhesive composition. The basis of the first component is quartz sand, the second - synthetic latex. Thoroughly mixed before use, these components give the adhesive high adhesive properties and elasticity, simplifying the application and installation of finishing materials.
Such glue well holds ceramic tiles of various sizes, natural and artificial stone. With it, you can fix the rubber elements on the concrete surface.
Ultramastic III
This is a tile adhesive that is sold in ready-to-use form. It is used for the installation of any kind of tile or mosaic on the walls, floor or ceilings inside the room, as well as for the exterior of the facades of buildings. With it, you can mount thermal and sound insulation materials, decorative ceiling panels, foam concrete blocks.
The basis of the adhesive composition includes special acrylic resins, fractionated mineral aggregate and other components.
The temperature range of application is from +5 to + 35C.Since the glue contains water, it hardens only after the evaporation of moisture and depends on the percentage of humidity in the environment.
Eporip
Adhesive composition for bonding reinforced concrete products and concrete elements between themselves or with metal surfaces. Also used to fill cracks formed in concrete. This is an epoxy adhesive, consisting of two components, one of which is used to harden the adhesive mixture. Due to its consistency (if properly proportioned), it can be applied on horizontal and vertical surfaces. The application of glue is carried out at a temperature not lower than + 5C.
For how to apply Mapei glue with airless, see the next video.