Characteristics of Moment 88 glue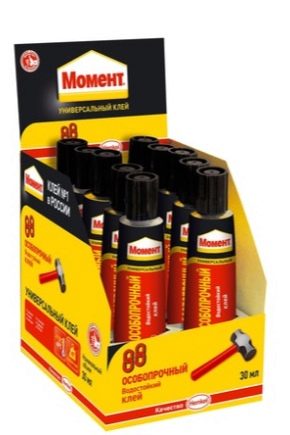 Glue "Moment 88" is widely used in the domestic environment, in the repair industry, (shipbuilding, mechanical engineering). In the construction industry, it is used as a primer compound because of its unique ability to penetrate far into the surface to be finished. It is characterized by water resistance, heat resistance, plasticity and quick setting. The glue joints are durable, do not lose their qualities at temperatures from -30 to +90 C, withstand significant mechanical loads.
Types and features
Moment 88 all-purpose adhesive is made from a solution of ethyl acetate, phenol-formaldehyde resin and rubber. It easily fastens wooden, cardboard, leather, rubber and metal surfaces, as well as ceramics, glass and textiles.However, it is not recommended for bonding polypropylene, styropor, plasticized PVC and polyethylene, as well as for dishes and containers in contact with food and drinking water.
Glue "Moment 88" has several varieties.
88-CA created for bonding objects with a porous and fibrous structure. It securely holds metal with rubber. Does not lose strength and elasticity at a temperature of -50 C, it is also called rubber. Suitable for small household repairs. Glue is moisture resistant, does not cause metal oxidation. Available in capacities from 1 to 200 liters.
88-NP created for bonding wood with rubber, concrete, leather and plastic. It is very water resistant, saline and fresh water is not chemically affected. It is superior in strength to 88-CA glue. The adhesive composition is used in shipbuilding and installation work. It does not lose its properties at temperatures from -50 to +70 C. It does not cause metal corrosion, it is used for cold and hot bonding. It is sold in tubes of 50-125 ml.
88-M extra strong 15 kgf / sq. cm, created to connect any materials. Mainly used in the repair of road transport.Does not lose properties at temperatures from -40 to +70 C.
88-NT designed for bonding wood, concrete, metal and ceramics. Does not lose properties from -40 to +50 C. Waterproof. Glue specifications are suitable for hot and cold gluing methods. Exposure time after binding to operation 6 hours.
"Lux" designed for bonding metal, textile, paper, plastic, glass and foam rubber. It is used in everyday life, construction work, radio engineering and in the assembly of furniture.
All varieties of Moment 88 glue can be found in various packaging: 750 ml jars, 25 kg buckets, 40 kg barrels and small tubes from 30 g.
How to use?
There are two ways to glue materials with Moment 88 glue: hot and cold. In the home environment, the cold method is used.
The action algorithm is as follows:
prepare the surface, clean out of dirt, degrease;
lubricate with glue and hold for 15 minutes, while applying glue evenly, in a thin layer;
the application of the adhesive composition on the surface is repeated and again maintained for up to 15 minutes;
attach the surfaces to be glued and hold for 2 minutes;
in this form, the glued items should remain for a day at a temperature of 20 C.
With the hot bonding method, the seam is extremely durable. Procedure:
prepare the surface for bonding, sanding and degreasing;
apply a thin layer of glue on the finished part, wait 30 minutes;
surfaces heat up to 90 ° C;
Glued objects must be firmly pressed with a press, the parts to be glued must be under it for up to four hours.
All work must be carried out in a well-ventilated area, away from sources of fire. According to user reviews, "Moment 88" has a strong, acrid smell.
In case of contact with the skin of the hands or eyes, rinse well with water. Tools after work can be cleaned with a rag dipped in gasoline.
Recommendations for use
It often happens that the residue of glue thickens over time. Adding ethyl acetate in a 1: 1 ratio will help to solve this problem. It will be possible to use glue in 6-12 hours. And you can also use benzene or dichloroethane. They are added to the glue to a state of thin cream.
The storage temperature of the "Moment 88" composition should be from 10 to 25 C.Under these conditions, the adhesive composition can be used throughout the year.
Before starting work, the glue must be mixed well until a uniform viscosity is obtained. From the surfaces to be glued, dust and dirt are removed. Then everything is degreased and cleaned with sandpaper.
When working observe the rules of fire safety in the premises. After work, ventilate the room well.
For more information on the Moment glue, see the following video.