Choosing mounting glue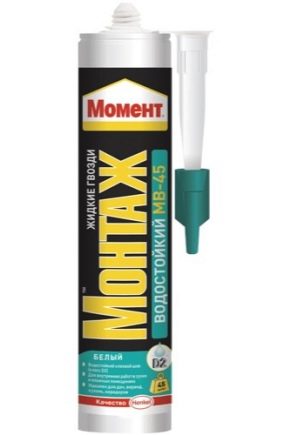 Construction adhesive has a number of significant advantages: it is invisible and does not deform the surface. The adhesive bond withstands mechanical stress, has antibacterial properties.
Usually, the planes treated with a similar composition are pressed tightly against each other, and the excess substance is removed with a spatula or rag. This technology is appropriate to apply for any material.
Special features
Three large types can be distinguished from the group of adhesives:
household;
for industry;
for professional builders.
Clay is also differentiated by chemical properties, there are substances:
The first type can be both thermoplastic (it hardens naturally) and thermoset (the composition hardens under the influence of chemical reagents).
Thermoplastic adhesives are not able to withstand heavy loads, they can be dissolved without much difficulty, and they freeze at room temperature. They are inexpensive, so they are very popular.
Thermosetting adhesives are substances that differ:
large adhesive performance;
cohesive strength;
good elasticity;
resistance to temperature;
moisture resistance;
low price.
Also, adhesives differ in their chemical formula, they can be in the form:
solution;
emulsions;
melt;
adhesive tape.
Kinds
If you mention the mounting substance for drywall, then their quality is easy to check with the test. It should be placed on a piece of plywood block, smearing it with adhesive. After a day, you need to try to tear it off: if the bar easily lags behind the plywood - this suggests that the substance is of poor quality, strong fixation will not work.
Mounting adhesives brand UHU make it possible to find the optimal composition for any work. Such compositions allow for repair work and at the same time guarantee a very strong connection. The material can be very different: wood, plastic, metal, etc.
Also, such adhesive compositions can be used effectively as a sealant, it is appropriate to use them both for interior work and for exterior work. Construction adhesive is used for bonding various panels, styrofoam, window frames, etc.
Gypsum dry construction adhesive is sold as a dry mix, based on the composition of gypsum. It interacts well with materials from wood, metal and drywall.
Before starting work, surfaces are thoroughly cleaned and degreased. The thickness of the layer depends on the weight of the part that is attached.
The advantages of this mounting adhesive include the fact that it:
not noticeable;
frost-resistant,
does not deform objects;
easy to handle;
non toxic
Construction adhesive or liquid nails - this is a superstrong substance that securely holds the various elements: mirrors, parts and more.
Substance is of two kinds.
Moisture resistant acrylic look. It is used for outdoor work, it is well resistant to high humidity and temperature changes.
There is also a form consisting of polymers. Such compositions can be used in residential areasbut it is not recommended to dilute them with water: they will inevitably lose their effective qualities.
Before choosing glue, you should understand what kind of work it is intended for. If it is difficult to determine the composition, it is better to contact a specialist or manager in a hardware store who is well versed in the subject, as well as read the guests.
Advantages of mounting glue:
does not contain toxins;
universal;
does not burn;
moisture resistant;
transfers temperature drops;
easy to handle;
the seams are barely visible;
small price
Mounting adhesives can be effective, not inferior in terms of mounting hardware, they are of the following types:
pasty - based on rubber;
compositions on water;
reactive polymers.
Rubber adhesives (or pasty) have a number of advantages. First of all, they have high adhesive properties, as well as a short setting time. The product weighing from 2 to 6 kg can be attached to the wall in minutes. Rubber adhesives are also remarkable because they are universal. They can work effectively with materials such as: plastic, ceramics, stone, wood.
The strength of such substances is estimated in the range of 22-36 kgf / cm2. To solve small problems, it is quite appropriate to use such substances. For comparison, epoxy resin has a strength of up to 410 kgf / cm 2.
Solvents are present in some coupling materials. The use of such is carried out using the contact method: the glue is applied to the surface with dots or strips, which allows you to create a reliable mount sufficiently massive nodes. The treated parts (after applying the substance) firmly pressed to each other, securing clamps, or put under the press.
Usually, the glue sets by evaporation of the solvent. In some substances of this group there are substances that contain toxins and are capable of harming the human body (for example, toluene, xylene). Often they are found in especially strong adhesives and for bathrooms.
Transparent adhesives from this group:
Tytan Professional;
Classic Fix.
Have a number of advantages and compositions based on aqueous dispersions:
do not ignite;
do not contain toxins;
can be both transparent and white.
Their disadvantage is that such compositions can be applied only with porous surfaces: the substance is absorbed into the micropores and gradually solidifies. This process requires some time, but the adhesion is quite strong. Most often, such a substance is used for bonding foam plastic, ceramics, wood. Such a substance is not suitable for working with metals.
Reactive-type adhesives do not incorporate water or solvents, they harden according to the principle of silicone compounds, while emitting alcohol. Such substances do not have toxins and are not harmful to humans. The main advantage of these compounds is that they create an incredibly strong connection. Of the shortcomings can be distinguished cost: it varies in the range of 300-500 rubles. This factor is often decisive.
If you want to install tile in a room where high humidity is constantly present, then in this case it is most rational to use rubber glue, which often performs the functions of not only glue, but also sealant.
There are several types of adhesives such a hybrid group:
MS adhesives;
modified polyurethanes (Tytan Multi Fix, Tytan Fix & Seal).
They are sold in small packages (50 ml each), create a strong grip, and also quickly set.
To determine how the composition of quality, it is recommended to pay attention to how the substance spreads over the surface. If this happens just as sunflower oil spreads in a frying pan, then such a composition is of poor quality, it will be bad to grasp.
How to use?
The use of mounting glue should be carried out in accordance with the data written on the packaging or tube. The information in the manual is all the more useful since it has passed countless test cycles and was compiled after full-fledged tests.
On the packaging is always indicated:
manufacturer;
Date of issue;
specific brand;
color.
There are also application tips that explain what materials the substance interacts with (for example, tiles, PVC, windows and doors, wood, metal, etc.).
Manufacturers
Until recently, the most reliable fasteners were nails and screws, but now the mounting glue is gaining more and more popularity. This material is inexpensive, creates a reliable grip, does not damage the surface, and working with it is easy and effective.
Manufacturing companies that produce quality products:
Soudal;
Henkel;
Axton;
Makroflex;
Econ;
Volma;
Titebond;
Titeseal;
Quelyd;
Dauer Block;
Lacrysil;
Classic Fix;
Aeroc.
Tips
All materials that need to be glued must be subjected to preliminary special treatment. It is necessary to remove all foreign compounds: old paint, putty, rust. Sometimes various solvents are used for more effective surface cleaning.
If the composition got on hand, then it is recommended to dip it in water: polymerization will be stopped in this way. Also in pharmacies sold a special compound - Dimexin, which effectively allows you to remove residues of the substance.
It is necessary to plant in accordance with the instructions. It is very important that there are no lumps: the composition with which the work is done must be uniform. You can work with him for the next two hours.
For information on how to use a sealant gun, see the following video.