Subtleties laying mosaic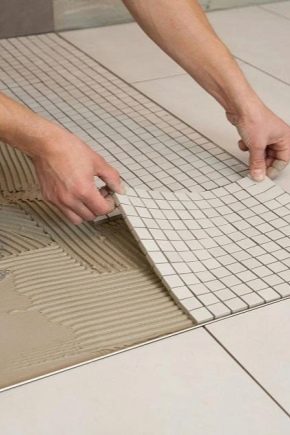 Special features
Mosaic tiles can be cut into pieces of desired length and width - this makes it easier to lay in difficult to reach places. A large assortment of mosaics allows you to create any decorative panel, an interesting pattern.
Kinds
Which one to choose?
For decorating surfaces, you can use a mosaic in combination with ceramics and metal, because it gives a matte, opaque surface.
Training
Having laid out the intended pattern on the surface, it is worth checking that the pieces of the tile are fixed with adhesive tape and numbered - this will facilitate the further assembly of the ornament.
How to put your own hands?
Important! If the tile is used to create a kitchen apron, then the bottom edge of the apron should be noted on the level. That he will be decisive in the smooth arrangement of the mosaic. It is necessary to fasten a profile with dimensions of 27x28 cm to the wall. The profile acts as a support. Thanks to its presence, the tile will not crawl.
Tips and tricks
You need to understand that the glossy surface of the mosaic will leave fingerprints. Traces on such surfaces appear more clearly than on dull surfaces, so frequent maintenance may be required to maintain a smooth shine. There are some mosaic options that will scratch over time.
The use of special sealant after installation is one of the solutions to this problem. It is recommended to use glass tile for walls and limit its use on floors to accents and design borders.
To get the best environmental result, you should buy a 100% recycled mosaic. You can search for a local supplier who sells broken tiles.
The surface of the mosaic cannot be rubbed with oily substances, with phosphoric acid and wax.
Beautiful examples
Living room
Flooring
Bathroom
In addition, you should choose a bold template to create a decorative point of interest. Mosaic tiled parts should not be just rectangular; you need to be creative and create a curved or reverse surge that will draw attention to other features in the room.
Kitchen
Exterior Constructions
It is possible to lay out a mosaic only on concrete fences with a smooth surface.
If you want to repair your house or build a new one, you should think about using mosaic tiles to add beauty and elegance to the house. This will help create a decor that will satisfy the wishes of the owner.