Italian tile: beautiful interior design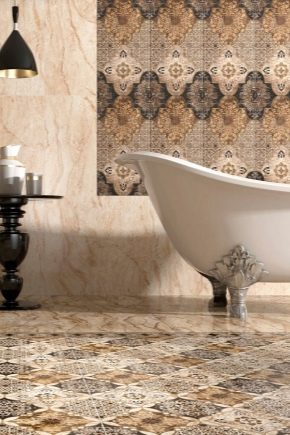 Special features
That is why in no case can one use tiles created for walls to decorate floors in bathrooms.
Design
For the first time, Tuscan craftsmen used white clay for the production of ceramics, which is the basis of all faience products.
This is one of the most interesting materials for decorating walls, and by its properties it is called experts even more reliable than the well-known ceramic tiles. Such glass will serve you for many years.
How to choose?
The best choice is the third or fourth grade of resistance, but if your family is rather large and the kitchen is operated continuously, then the floor tile must be of the fifth grade.
On the glossy tile will be well visible stains from the water. It will be much easier to slip on it. Matte products are harder to tidy up, although they mask some of the dirt for their low key.
No matter how high-quality the Italian tile is, you still need to carefully choose a criterion such as the absorption of water falling on the product. It is better if it will be from 3% to 10%.
Manufacturers
Beautiful examples in the interior