How to cut tile tile cutter?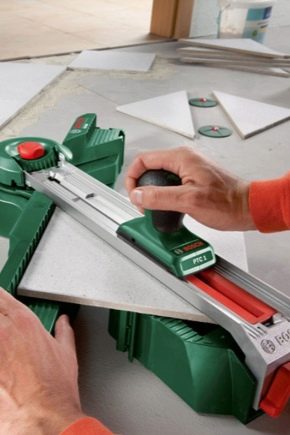 It is mechanical, easy to use and much cheaper than electrical.
Tool list
Manual tile cutter
Safety
Thread Basics
If you apply too much force, the decorative layer can easily deteriorate, and if very little, then you will not be able to break the tile. It is impossible to pass the tool on the tile twice.
If done correctly, the tile should break exactly along the line.Above, it was explained how to work correctly with a manual tile cutter, below we will analyze its electrical version.
Electric tile cutter
Safety rules
Slicing tile
Important: In order to increase the running time of the disc, water should be periodically replaced during the thread, especially if you have a large number of tiles. While cutting on both sides of the tile, press down with equal force to avoid skewing.
How to cut a tile without tile cutter?
angle grinder
Jigsaw
Figure breaking out