Metal tile: beautiful examples in the interior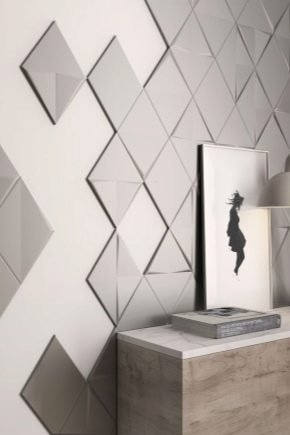 The issue of repair is one of the most controversial. Sometimes this process is delayed precisely because people cannot choose something concrete. When choosing you need to rely on many factors, one of which is compliance with the latest fashion trends. As a rule, manufacturers specify a rather long service life - up to half a century. I would like the selected material to be relevant if not the whole of this period, then at least most of it.
Fashion does not stand still, and finishing materials in this case is no exception. The previous five years was marked by popular materials under the tree. Now they are replaced by metal coatings.
Kinds
Depending on the application, the coating can be:
outdoor;
wall mounted;
ceiling.
On the packaging there is a corresponding marking (besides, other characteristics of the tile are indicated there - hardness, coefficient of friction, weight, frost resistance, and so on).
According to the content of the metal, they can be divided into:
A special subspecies can be called tiles with imitation of copper, brass, bronze, silver, gold. And sometimes they are almost impossible to distinguish from the original.
In addition to their image in its original form, such options are popular:
artificially aged (with scuffs, scratches, traces of paint);
with rivets, notches, dents, which are caused randomly or form a pattern;
with convex patterns or other relief;
imitation of iron sheets touched by corrosion or rust.
Such facing material acquires its appearance as a result of lapping, the essence of which is the removal of the upper layer. The result of this treatment is a surface with "soft gloss" (which, by the way, has good anti-slip properties).
Another procedure in which the top layer acquires decorative properties is glazing.Glaze is a glass mass in which the product is immersed or applied locally in one or two layers (to strengthen it).
She may be:
transparent glossy;
opaque or translucent color (in our case it will be metallic with a particular shade);
transparent satined. In addition, the glaze create three-dimensional patterns and patterns.
Materials
Tiles made of metal completely, most often intended for non-residential, industrial, business premises.
Tiles can be:
perforated (holes can serve as decoration, as well as for water flow, ventilation);
monolithic (embossed and polished).
The most commonly used steel or cast iron. Cast or forged, they can be sold in solid metal sheets or dimensional elements. The form at the request of the customer can be any. Their advantages are simplicity of laying, wear resistance, heat resistance. Service life is up to 50 years with timely carried out repair work and the corresponding load.
Tiles containing metal to a small extent cost much less and can be used in residential buildings.As a rule, the basis is ceramics, on which a thin layer is applied to the metal in liquid form. To make it shine, glazing is possible. Depending on the tone can be any kind.
There are options even with the use of gold leaf, which, despite its beauty, is available only to a narrow circle of buyers.
Porcelain tile - more accessible type of tile. Its basis is clay, mixed with other substances to enhance certain properties. The production process includes pressing and firing. Among its advantages are resistance to external influences (water, high temperatures), hardness, a wide range of models, naturalness and ease of care. Among the minuses - a lot of weight, which can create inconvenience during installation, poor resistance to point dynamic loads (impact on such a surface during transportation or operation will cause cracks or destruction), tactile inconvenience. However, for the same indicators, he wins over ceramic tiles.
Glass is a more fragile material, more designed for walls than for floors. Metallic paint is acquired by applying the coloring matter on the wrong side.Glass, as a rule, is used tempered, therefore its characteristics of durability are higher in comparison with usual.
Ideas in the interior
Metallic tile is appropriate in the interior, decorated in any direction of the classical style. Gilding and silvering are one of the key features of the Baroque, a synonym for which can be considered luxury combined with massive furniture and majestic architecture.
Occupying a certain intermediate value modern style also provides for the presence of metal parts. The main thing that these inserts were unobtrusive and echoed the rest of the interior.
And yet, since the classics require more correspondence in the details, modern styles are more popular. For example, it is in minimalism that the texture and shades of a metal are fully revealed, in all its glory. Here you can see how the color of the coating can expand or contract the boundaries of the room. When choosing a dark coating for all surfaces, carefully consider lighting - both natural and artificial.
If most of the room's details are chrome,that is, it makes sense to continue this trend in tile with steel mirror shine. This is especially true of high-tech style.
Unusual combinations can be found in eclecticism. A good alternative to gloss is a textured tile.
Well, the popular loft style with its industrial theme was simply created to show how different a metal can be. Here you can use almost all types of tiles, but it is preferable to still present a rusty metal with signs of aging or in its raw form.
In the next video you will find a training video on the lining of the bathroom.