A selection of polish bathroom tiles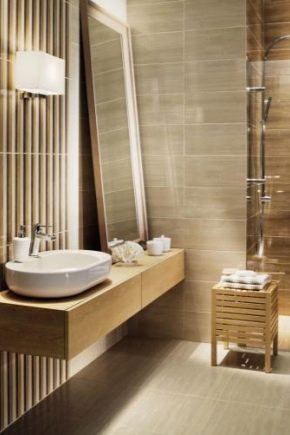 Finishing materials, operated in high humidity conditions, must be of good quality, as well as have thermal and moisture resistance. High technical characteristics inherent in ceramics from Poland.
Not everyone knows how to determine the choice of Polish tiles for the bathroom, as its range is quite wide. A review of well-known manufacturers and recommendations for choosing the most detailed consider in this article.
Special features
It is believed that the highest quality ceramic tiles are made in Italy. However, coatings from Poland are practically not inferior in technical and aesthetic properties of Italian ceramics. In addition, the price of Polish tiles is much lower.
The tile from Poland is made of quality clay, production is produced in the same country. The production process of finishing materials has been completely modernized and includes some technologies that were borrowed from leading European countries in the field of ceramic tile manufacturing (Italy, Germany, Spain).
The low price of Polish tiles is not associated with poor quality material, but with an improved production process. The latest equipment and the use of advanced technologies can significantly save on costs, which entails a reduction in the cost of the final product.
Advantages and disadvantages
To date, Polish tile coatings are the best in terms of price / quality ratio.
This tile has several advantages.
Harmless to the body. Polish ceramics are made only from high-quality materials of natural origin without the addition of harmful components.
Ease of care. The coating is not afraid of household chemicals and moisture, which allows regular wet cleaning in the room.
Hygiene. Tile coating is not subject to the formation and spread of mold and mildew.
High rates of moisture resistance.Polish tile does not deteriorate under the influence of water.
Ceramic tile from Poland allows you to create a high-strength hard coating. Such a finishing material is able to withstand heavy mechanical loads, which are created by heavy plumbing. In addition, the tile surface is not sensitive to abrasive particles and chemicals. Under the influence of such substances the material will not be scratched and will not lose its original appearance.
Fire resistance The tile is not subject to burning and spread of fire, which ensures a high level of fire safety. Under the influence of high temperatures, which can create water-heated towel rails, the material does not deteriorate and does not emit toxic gases.
A large number of various designer collections from well-known Polish manufacturers allows you to choose the right option for any interior.
Despite many advantages, Polish ceramic tiles have several disadvantages, which most often belong to certain collections.
We note the main disadvantages of such coatings.
Some parties, even produced by popular manufacturers, may have a marriage.For example, an uneven surface or an incorrectly applied pattern that will be difficult to dock.
Slippery and cool surface. This disadvantage is inherent not only in Polish coatings, but also in all ceramic tiles. To choose this option for finishing the floor in the bathroom is far from safe.
Fragility. The material creates a durable coating after installation. Each individual tile can easily split or be damaged during transport or careless handling.
Kinds
Polish tiles for bathrooms can be used to finish both walls and floors. Most often, the finishing material is made of ceramics. However, there are collections of porcelain. Porcelain stoneware is most often used for lining the floor, since such a coating is less slippery and has higher technical characteristics.
The size and design of the tile from Poland can be very diverse. These parameters will depend on the specific manufacturer and collection. You can find both large tiles and material in the form of a mosaic.
How to choose?
When choosing a Polish tile, first of all, it is necessary to consider the design of the bathroom, its dimensions and type of surface,which is to be finished.
In rooms of a small area it is not necessary to use a large tiled material (for example, 100x100 centimeters). For wall cladding it is better to use a glazed coating with a high degree of gloss, which will visually make the room larger. As a floor covering the most suitable option would be a matte tile or porcelain stoneware.
When choosing a shade of material you need to pay attention to the prevailing color range and the level of lighting in the bathroom. If the room is dim lighting, then the shade of the tile will visually appear darker than it actually is. It is also worth remembering that, using the coverage of light colors, you can visually increase the area of ​​the room.
Popular brands
Despite the fact that the Polish tile has high technical characteristics, in many respects the quality of the product depends on the manufacturer. Before buying the material is to familiarize yourself with the most popular brands that have a lot of good customer reviews.
Opoczno
Finishing materials produced under the Opoczno brand are very popular not only in Poland, but also in other European countries.The company is working together with Italian and Spanish designers of ceramic tiles. Opoczno bathroom coverings are a prime example of a combination of high quality, low cost and aesthetic appearance.
Tubadzin
Tubadzin tiles are made on the most modern equipment from Italy and Spain. Combining high European production technologies and high-quality materials from Poland, it is possible to manufacture high-quality ceramic tiles.
Very popular are several collections of the brand Tubadzin.
Color. The collection is very popular throughout Europe. Its distinctive feature is a bright color palette of tiles. The coating can be smooth or embossed, monophonic or with original patterns.
London Piccadilly. The collection has a special refined style. Shades of tiles are not so diverse, but the variety of forms and textures of the material allows you to create an original coating in the bathroom.
Ceramika paradyz
Ceramika Paradyz has been operating since 1989. For buyers all over the world, tiles from Poland are associated with this particular brand. Paradyz tile covers are available in more than 50 countries around the world. The company's products meet international quality standards.The latest technologies are constantly being introduced into the production of ceramic tiles, which allows us to regularly improve the technology of manufacturing and the characteristics of materials.
There are a number of the most popular collections of Paradyz bathroom tiles.
Esagon. The collection is represented by small hexagonal tiles in delicate powdery shades. Finishing material is ideal for facing bathrooms in retro style.
Tero. Tiled coverings of this collection combine unsurpassed style and simplicity. The laconic design and light colors will highlight any room interior. However, this tile is only suitable for spacious bathrooms, as it has a fairly large size.
Daikiri. The tile from the Daikiri collection allows you to create a spectacular imitation of wooden surfaces, thanks to the natural shades and structure of wood. Such coatings are produced in the form of long and narrow horizontal plates, and also in the form of a square, which resembles a section of a wooden bar. The color scale is presented in beige, gray and cream tones.
In the next video you will find a presentation of the collection of tiles Venatello from the Polish brand Tubadzin.