Blanbon "Bonbon"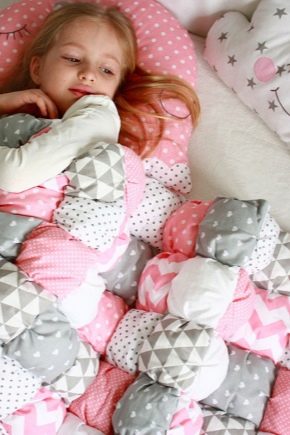 What is it and what is it for?
Functionality
Features and benefits
Thanks to this approach, you can come up with any pattern: from simple diagonal stripes, zigzags or "chessboard" to an ornament or three-dimensional geometric figure, different silhouettes or abstraction.
Merits
disadvantages
Kinds
How difficult is it to do: what is wrong with the instruction?
If you do not want to turn the product, you can simply put the bonbon layer and the warmed base inside out, stitch them and make the edging.
Dimensions
Materials and colors
Beautiful interiors with a bombon blanket
Choosing the color of the blanks, it is worth considering: it is preferable to use light shades of pastel colors, as they are able to bring light, heat into the room, visually increasing the space of the room.