How to make a lampshade with your own hands?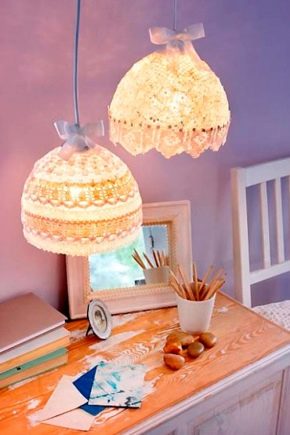 Popular materials
Textile
Transparent fabrics should be at a great distance from incandescent bulbs, and lace should preferably be starchy so that they retain a rigid shape even without a frame.
Tree
Metal
To give the wire the desired shape, use a small bucket, a salad bowl on the stem, a figured vase, a fruit basket, or any other object that can be wrapped around the top and then removed.
Gypsum
Plastic
Paper
Threads
Handy materials
Style direction
Master class on making
How to make a frame?
How to sew from a fabric?
How to update the old lamp at home?
The decoupage technique with the use of beautiful patterns on napkins and special compositions for transferring them to fabric can save the old lamp shade. In the same technique, antique products are created.
Stylish and beautiful ideas for homemade ceiling, floor and desktop models