Lampshades: options for designs and features of choice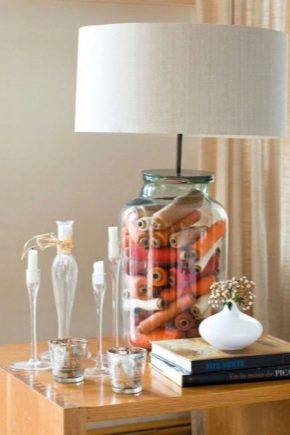 What does it mean and what is necessary for?
Various materials and forms in which lampshades can be made allow you to choose the right model for absolutely any style, starting from refined baroque and ending with a deliberately coarse rustic.
Kinds
Dimensions
When creating the interior of the room, you can combine lamps with lampshades of various dimensions. This technique will help to make the room look more interesting, make the viewer's eye to dwell on the details.
Design
Forms
Materials
Colors
Sometimes it is much more interesting to look at contrasting combinations, for example, a black metal base and gold fabric.
If you are not confident in your abilities, it is better not to use the colorful cap in the room.
Decor
Remember that this type of decoration is more preferable for traditional interiors. In most modern rooms, such models will look ridiculous.
Styles
Manufacturers
How to choose?
It does not matter if it is selected on the ceiling, on the floor or on the table - this rule works equally well in any situation.
Pay attention to the light transmission ability of the cap, especially if it is used for bedside tables: the light should not be too bright.
How to care?
Beautiful interiors