Garlands in the form of fringe: types and tips on choosing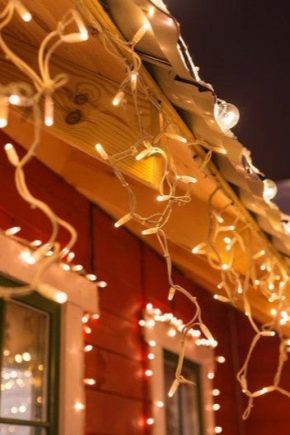 Today, the assortment of garlands is so large that you can "get lost" in it. The choice of consumers presented a great variety of products, from simple to non-standard. One of the most popular and aesthetic are modern garlands in the form of fringe. It is worth considering what species they are divided into and how they should be properly selected.
Kinds
Garland-fringe is different. It is divided by various signs. You should read them in order to understand which product is right for you. First of all, all the garlands can be divided by type of food into such types as:
solar powered;
connected to conventional batteries;
working from a household network in 220V.
Products powered by solar panels and simple batteries are fully autonomous. They do not need to connect to the network. Today, solar options are very popular, which in the daytime with the help of special photo cells accumulate charge from the sun, and at night they begin to glow.
Types of glow
As a rule, such decorations are equipped with durable and economical LED bulbs. These items are expensive, but they easily pay for the high cost of their performance. LEDs in a decorative fringe can be static, dynamic or flickering. It is worth more to consider the types of glow.
In popular instances with twinkling (flash-garlands) all the lights turn on and off with a certain alternation, for example, every 5 of a branch. This light effect will be achieved using a special microcontroller without the need to install auxiliary components in the electrical system.
Approximately 15% of the lights in such a garland will glow intermittently.
The simplest are the standard ones. static options. In them all the lights glow constantly - there are no additional lighting effects. As a rule, these products are purchased for home installation. They are used to illuminate the interiors.
Products in which several modes are applied are called Multi-chasing. Usually with them in the set are controllers that allow you to switch certain modes.
Mode called Chameleon It is a color play of lights. This effect is very similar to the color change of the chameleon's skin, hence the name of the mode.
Scope of application
Garlands in the form of fringe and differ in scope. They are used both as internal and external devices.
Street
Garland-fringe is very often used to decorate urban buildings. Its wide distribution is caused not only by its stunning appearance, but also by its high reliability and ease of installation. Many people turn to such lighting decorations when designing their homes. Of course, mostly similar products play the role of New Year's additions. Street fringe consists of a long wire, characterized by high flexibility. It is on it and the LEDs are located.
Such a garland turns frost-resistant - neither precipitation nor low winter temperatures are terrible for it. Each LED illumination lamp for the street is equipped with a reflective cap, which not only protects light sources, but also increases their level of brightness. As a rule, the sheath of outdoor products is made of rubber, transparent silicone or PVC - these materials are not afraid of negative external factors. Street garlands in the form of fringe can also work in different modes. Static models are often fixed at the entrance to the home.
Homemade
Garland-fringe can be used to decorate the home. Usually, their installation is addressed on the eve of various holidays. Thanks to the bright shine of the LEDs, a unique festive atmosphere is created in the room.
Home lighting systems also come with a small controller. In a static state, they simply glow, and in the conditions of a given mode they may flicker, blink, or flicker.
Color solutions
On sale you can find two variants of luminous fringe.
Monochrome option is equipped with LED-flashlightsglowing in one color.Such options look no worse than multi-colored. Very often they are hung on various buildings, as a result of which their facade literally comes to life. Options for single colors can be very many, but the most common are blue, pink, white, green, blue, red, yellow.
Multi-colored products are complemented by a variety of diodes of different colors. Similar products also look very impressive and attract a lot of attention. Combinations of colors may be different. They can combine 2 or more colors. In tandem with beautiful lighting effects, such garlands look just fabulous.
How to choose?
Despite the fact that the garland in the form of a fringe is a common and affordable product, it should still be chosen very carefully so as not to encounter a low-quality product (and there are a lot of such products on sale today). In search of suitable illumination, it is desirable to pay attention to several paramount criteria.
Choose only products made from high quality materials. So, the plastic case of the scenery must be reliable and strong,especially when it comes to cold-resistant outdoor options. If we neglect this criterion, the plastic in the garland can crack and destroy the LEDs.
An important parameter of the selectable garland is its length. Sizes from 5 to 20 m are standard. In some stores you can find even more impressive specimens whose length is 50 m.
To stop the choice on a suitable option, you need to measure the basis on which you plan to hang a glowing fringe. It is advisable to buy illumination with a small margin.
If you choose a garland for installation on the street, then you should definitely find out about its level of moisture resistance. Models that will work properly in low temperatures and precipitation are marked with the letters G and R. Usually, these designations are indicated on the original packaging with illumination. If the box contains the letter N - this means that the decoration is not intended for use outside the home.
Inspect all the wires and connections of the garland before you buy it. These parts must not be damaged or dented. LEDs should be attached to the base on the conscience.If you notice that the lights on the garland stagger and hold not very tightly, then it is better to refuse to buy - for a long time this decoration will not last.
It is important to pay attention to the branded packaging with a garland. It should not be crushed and badly damaged. Such defects may indicate improper storage and transportation of the product. In such conditions not only the packaging, but also the garland itself could have suffered. In order not to risk, you should not buy such models.
Decide in advance on what kind of light effect you want to get from the lights you buy. In the shops you can find a variety of options - from static to flashing. In this case, the choice is yours. One has only to make sure that the chosen option will not cause irritation.
Try to choose only branded garlands in the form of fringe. In this case, the risk of acquiring low-quality and short-lived products will be reduced to a minimum. Of course, most likely, this model will cost more, but it will not cause problems and will please others for a long time with its bright light.
Beautiful examples
The effective garland in the form of a fringe is today one of the most popular ornaments.It is installed on the eve of various holidays, hanged on the walls of various institutions at the opening or anniversary. Remarkably, these options are suitable for decorating apartments and private houses. And you can hang them both outside and inside. In both cases, the home comes to life and begins to play with new colors. It is worth considering a few aesthetic settings, in which there is this beautiful illumination.
Garland-fringe - this is the perfect solution for decorating a private house made of wood. Against the background of a natural material, such illumination looks especially attractive and bright, and this can be either a monochrome or a multi-color model. As a rule, the lights hang on the edge of the roof. Some users go further - they cover the entire roof with LED lights. So that the plot of land does not seem boring and empty against the background of the house, it is also complemented with garlands. They can be hung on fences, fences and small trees (if any).
LED fringe looks good as an interior decoration. Such illumination is not always a large product with long falling parts.This garland may well be compact and neat - these options are perfect for small rooms. They can, for example, decorate windows, high furniture (dressers, cabinets). In such situations it is also permissible to hang up both monochrome warm and colored designs. Most often, the fringe is hung on the eve of the New Year holidays, but it can, of course, be installed without any reason - it all depends on the desires of the owners.
Original and fresh in the interior look falling garlands, decorated with stars of different sizes. They can be both very small and large. Asterisks can be added with snowflakes. Most often, this interesting illumination is hung on the windows and over the curtains. Thanks to this decor, the interior is made more light, relaxed and elegant.
In the next video you will find a review of street LED-garland "Fringe".