Features and types of LED curtains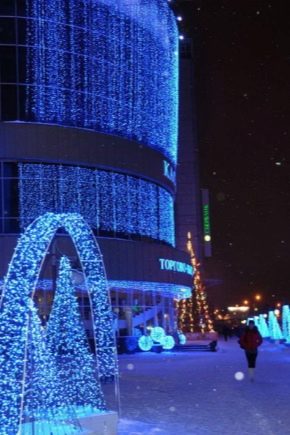 Device and principle of operation
A semiconductor device has a large number of electrons, another conductor has a large number of holes. Due to the principle of doping, a material in which there are many holes gets particles that carry a negative charge.
Application area
Light rain, in which there are miniature LEDs, is labeled IP20 (it should always be on the box) suitable for use in any room.
Such garlands have the ability to work on certain algorithms. You can set different programs, in accordance with which flicker and play will occur with a certain frequency.
Varieties of light curtains
The sizes of lighting devices can be very different. Sometimes they "cover" the facades of houses, which stretch for tens and hundreds of meters. Garlands are connected in series in the amount of several pieces. Chains are being parallelized, so with the failure of one "branch" the rest of the system will continue to work.
Recommendations for selection
Also pay attention to the rubber curtains, which also meet all established standards.All the garlands can be connected into one, which makes it possible to create a single light unit that can cover a fairly large area. Power at the same time should be one.
If the garland is several tens of meters in length, then it is likely that an additional power supply will be needed to evenly distribute the load. Care should be taken that the transformer is also reliably isolated from moisture.
How to hang a garland?