Lighting in the bedroom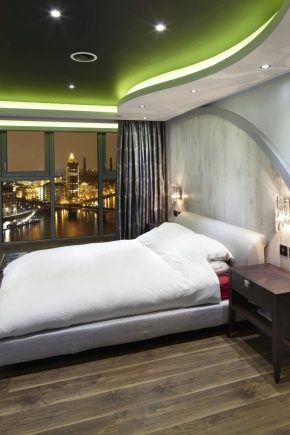 What should be?
Kinds
Daylight
Remember that most of the sunlight falls into the rooms, whose windows face the south side and, accordingly, the rooms that are located in the north will be the most unlighted.
Also, do not forget that the intensity of natural lighting affects not only the direct location of the windows, but also their size and location relative to the ground: the higher the windows, the more sunlight will penetrate into your room.
Artificial lighting
For extra comfort, you can install touch-sensitive switches in the bedroom, they are very convenient to use with the remote control. A modern technology, designed to allow you to control multiple touch switches at the same time.
Colors
Playing with different colors, remember that color lighting significantly affects the color of objects located in the room, sometimes changing them beyond recognition.
Lighting planning
For a large room, you can safely pick up massive floor lamps and wall sconces with the most fantastic decor. But in a small bedroom, of course, it is better to use lamps of modest size of classic and strict forms.
How to arrange the lamps?
How to light stretch ceilings?
How to choose?
To achieve the maximum effect, it is desirable to install a glossy stretch ceiling in the room - this solution will be particularly advantageous to look in rooms with low ceilings.
The simplest option would be to install built-in light sources using a stretch ceiling or plasterboard, behind which you can also easily hide electrical wiring and all other technical communications.
Interior solutions
Beautiful room design options