Porcelain tiles for the facade: what to consider when choosing?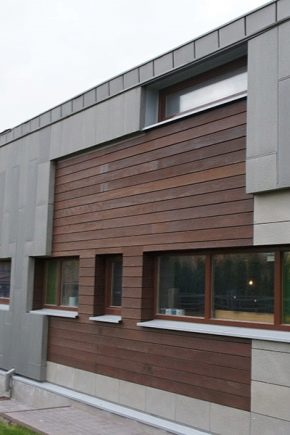 What it is?
Originally beautiful and good-quality porcelain stoneware found its use as a technical product. However, time does not stand still, and soon they began to use this material for flooring, plumbing and other similar objects.
Features and benefits
Through the use of high-quality facade porcelain tiles, the building can be given a completely different look and style. With such facing, the buildings look much more solid, more expensive and more modern. They gain a presentable brilliance and attract the eyes of passersby.
disadvantages
Specifications
Kinds
Mosaic tile
Brilliant and matte
Matt tiles are also considered fashionable today. They look great in modern interior styles. Such materials in their developments are used by many designers.
Metallized
Imitations
Dimensions
The minimum thickness of porcelain stoneware is 5 mm, and the maximum is 12 mm.
Color solutions
Light - cream, beige, dairy tiles, look fresh and interesting. They literally illuminate the street.However, when installing them, you should not make the slightest mistake - on a light background, they will be evident.
Manufacturers Overview
How to choose?
Calculations
In order not to be mistaken in the calculations, it is recommended to do them on special online calculators. Using them is easy, and they give the correct results. However, for this you will need to find out the exact area of ​​the facade that needs finishing, the type of material (in this case, porcelain stoneware), the orientation of the frame, the amount of insulation and the presence of a primer.
Material Tips
If you are not confident in your abilities, then you should hire a brigade of professionals for the installation of facade granite. Thus you save yourself from damaging materials and unnecessary experiences.
Beautiful lining examples