Greenhouse "Snowdrop": features, dimensions and assembly rules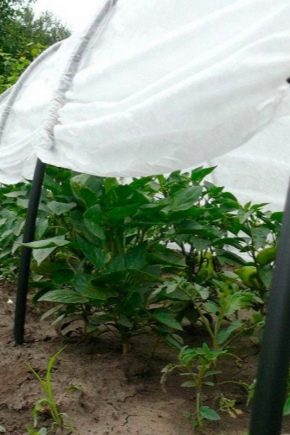 One of the best options, according to summer residents, is the hotbed "Snowdrop", which is produced by the domestic enterprise "BashAgroPlast".
Features: pros and cons
By purchasing a greenhouse "Snowdrop", you get in a set of frame arc, covering material, legs and clips for fixing nonwoven fabric. The advantages of the design are its characteristics. Due to the arched design space is used with maximum efficiency. Greenhouse can easily be transported in a car.
Description of construction
Today this greenhouse has become more popular than the greenhouse. This is a compact design, the height of which does not exceed 1 meter, so it can be mounted on areas with a lack of space.
Dimensions
What can be grown?
Often the greenhouse "Snowdrop" is used for growing seedlings of flowers. However, experienced gardeners are not advised to plant plants of different cultures in the same greenhouse.
Where to put?
Installing a greenhouse will take you little time, even if you are the first time faced with a similar task.
Build your own hands
Operation Tips
Despite the fact that the greenhouse is reliable, and the owners are convinced that he is not afraid of a strong wind, it is better to be safe. For this covering material strongly pressed to the ground. In areas where strong gusts of wind are often observed, vertical metal posts are also mounted on the ends, to which the frame is tied.
Customer Reviews